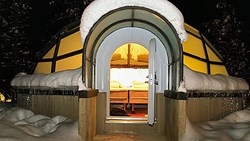 Since I practically live out of suitcases, the hotels I choose are very important to me. I think it is these unusual places that make travel interesting
(PRWEB UK) 30 November 2013
Hotels are our homes away from home. So if you are an eccentric at heart why live like a normal person on your holiday. An avid traveler, the co-founder of JoGuru Karthik Ramachandra says, "Since I practically live out of suitcases, the hotels I choose are very important to me. I loved my stay at the Igloo Village in Finland and I think it is these unusual places that make travel interesting". Below are JoGuru's recommendations to inspire all those zealous people out there.
1. Hobbit Motel, Woodlyn Park, New Zealand: Have you watched the Lord of the Rings and thought of living in Frodo's quaint little Hobbit hole? Well in New Zealand you can! The Hobbit Motel in Woodlyn Park gives you a chance to experience the hobbit life with its second breakfasts and leisurely afternoons amidst picturesque surroundings. Interestingly, Woodlyn Park also has other bizarre staying options on offer so it is a definite sight to see.
2. Igloo Village, Finland: The Igloo village of Kakslauttanen Hotel is a brilliant place to stay. You can delve into the secret life of the Eskimos. Imagine spending a night under the stars, surrounded by snow in a little igloo (don't worry; they make sure you won't freeze). The place is a lovely and unique experience.
3. Jules Undersea Lodge, USA: This Undersea Hotel in the states isn't for everyone but it is simply amazing. You need to be able to dive to reach it so get your gear ready. This underwater habitat is simply divine. Living underwater in this cozy place is sure to be an authentic aquatic experience.
4. Lake Palace Hotel, India: This Luxury Hotel in Udaipur is absolutely gorgeous. Situated bang in the middle of the famous Lake Pichola, this former palace and now super-swanky accommodation is a real sight to be beheld and the idea of floating on the lake is certainly romantic.
5. Burj Al Arab, Dubai: It seems strange to put this on this list but the Burj Al Arab is an unusual hotel in every way. For one, it is the tallest hotel in the world and just visiting one of its restaurants is a real treat. The interiors of the lobby as well as many of the suites make it extravagance and unique.
6. Jumbo Hostel, Sweden: One of the most affordable hotels on this list, the Jumbo Hostel in Stockholm is indeed a fascinating experience. The 27 rooms have been built inside an airplane. The Jetliner has all you need including a restaurant. It also happens to be on an airport making the experience quite authentic.
7. Quinta Real Zacatecas, Mexico: These awesome concept Hotels in Mexico are making quite the buzz. What do you do with the venue of a sport that has been outlawed in the country? You turn it into a stunning Hotel of course! This particular one is an old bullring in Zacatecas which looks especially majestic when lit up at night. This imaginative way of preserving the old while making innovations certainly gets two thumbs up.
8. Capsule Hotel, Japan: Now this one certainly defines the word bizarre. If you are looking for cheap and hassle-free accommodation in Japan head to the nearest Capsule Hotel. There are quite a few of these all over the country. Lodging in person sized "rooms", you can leave your luggage in lockers and sleep peacefully in one of the bunkers. Although built to cater to overnight lodgers, tourists are slowly cozying up to the idea of staying here just for the fun of it. Certainly an experience worth a shot!
9. Tree Tops Hotel, Kenya: This quaint little hotel in Aberdare is the place where the lovely and rich wildlife of Kenya gets accommodated into your hotel experience when you book a stay here. Overlooking two water holes, the hotel is an accommodation and an observation deck rolled into one. The best part is that you will be living literally in the midst of nature. If you want a real wild experience, this one is the perfect way to do it.
10. Gran Lujo, Spain: If you love being on the move, this luxury hotel is perfect. It is a train with fourteen luxurious suites to choose from. Travelling from San Sebastian to Santiago de Compostella, this lovely train hotel is a must try.
These places are certainly lovely but there are so many more in the world, it would be a pity not to explore. So channelize the inner weirdo and embark upon a journey to see and experience the unusual. Bon Voyage!