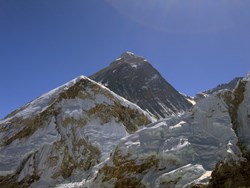 Ski or snowboard the height of Mount Everest and help families living with cancer - Ski 4 Cancer!
London, UK (PRWEB UK) 30 November 2013
UK ski charity Ski 4 Cancer will be staging a series of challenges this winter in partnership with Neilson and the Austrian ski resort of Saalbach-Hinterglemm-Leogang. The challenges will take place on four separate days in March 2014.
Individuals or teams will be challenged to ski the vertical height of the world's highest mountain, Mount Everest (29,029ft or 8,848m), in just one day. Beginners or intermediates can opt to ski the vertical height of Austria's highest mountain, the Großglockner (12,461ft or 3,798m) or the height of Mount Everest over two days.
By collecting sponsorship funds for Ski 4 Cancer, skiers and boarders will be able to save up to £300 off their next Neilson ski or board holiday. The discount will be issued in the form of a voucher which people can redeem when booking their next winter-sports holiday.
Rob Foster, Director of Services at Ski 4 Cancer explained, "Skiing the height of Mount Everest in one day is a real challenge even for advanced skiers. The 'one day' aspect of this challenge is significant because nearly 1,000 people are diagnosed with cancer in the UK every 24 hours."
Rob added, "Every person who completes the challenge and collects £300 in sponsorship will receive a £100 gift voucher, courtesy of Neilson and Ski 4 Cancer. Raise £600 in sponsorship and you'll receive a £200 gift voucher. Raise £900 and receive a £300 voucher! Each voucher can be used to pay for a future Neilson ski or snowboard holiday."
Pip Tyler, Overseas Director at Neilson added, "We've worked with Ski 4 Cancer's sister organisation, Sail 4 Cancer, for over ten years now and we're delighted to support this challenge. Aside from the Neilson vouchers, the person who raises the most for Ski 4 Cancer in this challenge will win a Neilson ski or snowboard holiday for two people in 2015!"
Pip continued, "Saalbach and Hinterglemm are very popular choices with Neilson customers. Prices start from just £399 per person and can be booked at http://www.neilson.co.uk/ski/austria/saalbach-and-hinterglemm. If you're planning to book a ski holiday this season why not get involved and raise money for a great cause at the same time?"
Any competent skier or boarder with a valid Saalbach-Hinterglemm-Leogang lift pass can take part. The challenges will run every Tuesday in March (4th, 11th, 18th and the 25th). To register for the event, visit http://www.ski4cancer.org/neilson. Places are limited so please express your interest early.
Ski 4 Cancer, pronounced ski for cancer, was set up by a group of keen skiers and snowboarders who have all lost a close relative or friend to cancer. By providing a range of alpine respite breaks for families living with cancer, Ski 4 Cancer gives families something to look forward to at the end of treatment schedules or after a loved one has died. Ski 4 Cancer also makes grants to palliative care centres and supports research into the positive effects of exercise and how it can both prevent cancer and assist in recovery post diagnosis.
-Ends-
About Neilson
Neilson has been providing top-end winter ski and snowboarding holidays for over 35 years. From its base in Brighton, Neilson creates award-winning holidays and continues to perfect the art of making everyone feel welcome. No matter what your level of experience or favourite activities are, Neilson really do let you 'relax as hard as you like'.
About Saalbach-Hinterglemm-Leogang
Comprising three interlinked ski areas (Saalbach, Hinterglemm and Leogang), the Ski Circus is one of Austria's leading ski and snowboard areas. With over 200 Kilometres of award winning pistes, 90km is rated as easy, 95km as medium and 15km as difficult. There are currently 55 lifts in the Ski Circus, including 17 gondola lifts, 17 chairlifts and 21 drag lifts. When combined, the Ski Circus offers 'unlimited' intermediate level skiing and snowboarding and some of the best après-ski in the Salzburg region.
Enquiries to:
Ski 4 Cancer
Andrew Hayward, Trustee
T: +44 (0)845 408 1849
Neilson
Sonja Turner, PR Manager
T: +44 (0)1273 666037
Saalbach-Hinterglemm-Leogang
E: contact(at)saalbach(dot)com
T: + 43 (0)6541 6800 68