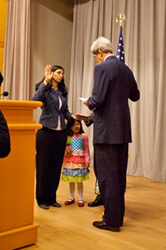 In Sri Lanka, there are 90,000 widows and 50,000 orphans of husbands and fathers who disappeared during and since the civil war
(PRWEB) December 04, 2013
Tamils for Obama wrote a letter to new US Assistant Secretary of State for South and Central Asian Affairs Nisha Biswal. "We would like to congratulate you on your recent appointment," the letter began.
Then the group introduced themselves. "We are Tamils for Obama. We have supported the president since the democratic primary in 2008. We are Tamils who fled Sri Lanka to escape the civil war. Most of us are American citizens now, and our group includes some sympathetic native-born Americans. We, of course, follow South Asian Affairs closely."
The letter continued with Tamils for Obama's concerns for their original homeland, and what they hope Ms. Biswal will do in her new position. "In Sri Lanka, there are 90,000 widows and 50,000 orphans (UK Channel 4, Sri Lanka: grim up north for the Tamil community, November 15, link) of husbands and fathers who disappeared during and since the civil war, with little effort being made by Sri Lankan officials to clarify what happened to them. We hope you can use your influence to help remedy this and many other chronic problems in the northeast of Sri Lanka."
The letter continued. "One of our goals has been and is to bring into being an international commission of inquiry into the GOSL's behavior at the end of and since the civil war. UN reports say that 75,000 Tamils (Al Jazeera, UN Report says Sri Lanka Killed 75,000 Tamils, Apr 26, 2011, Link) were killed by Sri Lankan forces and that these were not battle deaths. These were civilians killed by anti-personnel weapons fired into the 'no fire zone.' These and other atrocities and crimes have yet to be documented by some credible international body.
"Another of our goals is to have the wishes of the Tamils in northeastern Sri Lanka measured and established. We are inspired by the precedent of South Sudan, where a referendum led to the separation of a long-oppressed minority from a savage and lawless central government. The South Sudanese now have a relatively safe, secure and free homeland. We want the same for the Tamils in northeastern Sri Lanka."
The letter concluded "Thank you and good luck in your challenging new job."
Tamils for Obama is a politically active group of Tamil Americans. They believe that over 70,000 Tamil civilians were massacred during the last weeks of the Sri Lankan civil war. They have also watched the behavior of the Sri Lankan Singhalese victors after the war, and strongly conclude that Tamils in Sri Lanka will only be safe when this unfortunate island is divided into two states.
To contact the group, call at (516) 308-2645 and speak to, or leave a message for, the Communication Director, Tamils for Obama.
Email: info(at)TamilsforObama(dot)com