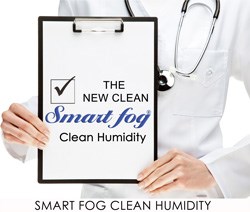 The new Smart Fog clean commercial humidifier with 2 new hygienic features.
Reno, NV (PRWEB) November 30, 2013
Smart Fog Inc announced this week an innovative enhancement to the popular ES100 series Commercial Humidifier. The ES100 series conventionally have operated utilizing a miniature storage tank in order break the water pressure to zero pounds per square inch. The new addition will allow the same functionality without the tank, allowing for no residual water within the system as the system stops.
"The key to the new development has been to ensure large orifices, which translates directly to a non- clogging, low maintenance humidification system," explains Ido Goldstein, director at Smart Fog.
The new ES100 features two new hygienic features. The new no water residual feature ensures no water is left within the system any time the system stops. This is a critical feature for most pharmaceutical operations because they do not allow any water standing within the facility. The Smart Fog commercial humidifier can be connected directly to the mainline water system because no water is left standing. The second feature is oxidization. Every drop of water and air disbursed by the system is oxidized. Additionally Smart Fog ZeroTDS filteration system provides mineral and pathogen free water.
The improved ES100 features injection capabilities allowing for any water dissolving chemical to be injected with the system using a digital keypad.
Smart Fog commercial humidifiers also features a full set of data logging and reporting capabilities. The features were developed specifically to comply with audit guidelines and allow for the operator to ensure the system is operating at optimal conditions 24/7.
About Smart Fog Inc
In business since 1980, Smart Fog Inc. is the recognized world leader in non-wetting commercial and industrial humidification solutions. Smart Fog's unique technology provides precise humidity enforcement, light speed uniform coverage and intelligent non-fluctuating humidity control. All Smart Fog products are all engineered and manufactured in the USA. Smart Fog staffs a full range of engineers to advise commercial printers, in-plants, and manufacturers on humidity management and environmental control for operation efficiency and employee comfort.
For more information, visit: http://www.smartfog.com