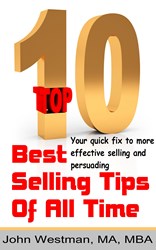 Tips for more effective selling and persuading
Boston, MA (PRWEB) December 10, 2013
The most effective, proven selling tips are now easy to access and practice in Top Ten Selling Tips of All Time by John Westman. This book is designed to help people be more persuasive in influencing others. In just 2 minutes, one of these tips can be applied to a given situation by answering simple questions for each tip. More powerful questions and messages can be created for more effective persuasion. This book is for anyone who would like to start selling and persuading more effectively.
Most everyone sells every day in some way. In his book, To Sell is Human, Daniel Pink reported that a survey of over 7,000 full-time working adults revealed that they "sell" 40% of the time. Professionals in health care, teaching, and business regardless of job title are continually "selling".
So, what is "selling"? Selling is persuading or influencing other people to do something. As Pink describes it, selling is convincing someone else to part with resources (time, attention, effort, and/or money) or to act for something offered to them: an idea, product, or service. Selling is convincing someone else to give up something they value for a benefit that comes to them. The essential building blocks for persuading others were recognized by early civilizations. In the fifth century B.C., the first 3 liberal arts – grammar, rhetoric and logic were essential for the educated citizen to influence others.
This book gives 10 selling tips with exercises to help apply each tip to a current, real-time situation. These tips are relevant for business to business (B-to-B) selling situations. Many tips are useful for business to consumer (B-to-C) selling situations and for persuasion in general. By completing the exercises for each tip for a product, project, or idea, business persons and other professionals can persuade others more effectively.
These tips come from sifting through hundreds of publications and conversations with thousands of professional sales people. They are the foundation of Westman's courses on professional selling.
Examples of the tips include "Selling is Helping", which shows how customers are more likely to buy when they feel that sellers have their best interests at heart and put the task of helping customers before their selfish concerns.
Another tip is "In Sales like in the dictionary, 'No' is just a word before 'Yes'." When customers say "no", they are really saying they need to "know'" more. The National Sales Executive Association reported that 80 percent of new sales are made after the 5th contact with a prospect.
These tips have stood the test of time and will likely remain useful for decades to come. In the spirit of "promise a lot, and deliver even more," 15 bonus tips are included.