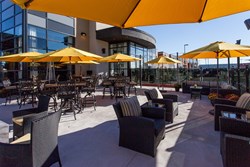 Fraticelli's Restaurant and Bar aims to lead the food and wine scene in Burlington by providing a tasting tour of the different regions of Italian cuisine
Burlington, Ontario (PRWEB) December 02, 2013
LJM Developments welcomed Fraticelli's Italian restaurant and bar in its contemporary retail plaza, Uptown Center, in Burlington on September 17th 2013. With the glamour of a Hollywood opening, the first night of Fraticelli's restaurant was buzzing with excitement. The opening focused on being a part of the community. This concept was so well conveyed that Mayor Rick Goldring made an appearance and took part in the inaugural event commending the restaurant and the Mian family for their support of the community.
The long anticipated Burlington location brings an innovative restaurant design and has earned rave reviews in its short time open. Guests and restaurant critics alike have hailed Fraticelli's' for its dashing ambiance. That's because Fraticelli's takes the time to create a "great Italian impression or fare una bella figura".
"Food and hospitality sector presents promising synergies for LJM Developments given our experience in development and leasing of retail space to mostly restaurant outlets. Our expansion into the restaurant industry will help us return a more immediate cash flow. It also serves as a logical means for us to diversify our business" says Shaheryar Mian who leads business development at LJM and also facilitated the company's investment in the restaurant industry in New York City.
There is no secret that Fraticelli's hit's the mark by combining an exceptional atmosphere, with superior service at agreeable prices. With this bold step into the fine dining marketplace, "Fraticelli's aims to lead the food and wine scene in Burlington by providing a tasting tour of the different regions of Italian cuisine" says the General Manager at the Burlington location.
Fraticelli's restaurant brings the authentic quality of a rustic Tuscan kitchen to Burlington community's doorstep. The restaurant's extensive lunch and dinner menus offer a wide variety of notable delights. Experienced chefs chose from the personal cookbook of Nona Fraticelli for traditional recipes, taken from all 20 regions of Italy. The menu is a fusion of what the best Italian eateries and trained chefs have to offer. Hand made pasta noodles are prepared with a colourful blend of sauces and fresh ingredients to wow your taste buds. Thick juicy steaks cooked on a high heat wood fire grill or fresh caught Atlantic salmon are savoury additions to the main courses.
For the wine aficionados, over 100 different options of the finest collections from Italy are available. Have fun choosing a wine to pair with any of the superb dishes on the menu or have specially trained staff suggest a pairing for you. "It is truly convincing that Fraticelli's only serves the best of Italy to its guests" claims the very passionate chef at the Burlington location.
Fraticelli's restaurant is making its mark in Ontario. Beginning with just two restaurants, Fraticelli's aims to impact local communities by bringing them together for fine dining. The friendly staff and exceptional service, create a relaxed atmosphere in a stylish setting. LJM warmly welcomes Burlington and surrounding community to visit Fraticelli's restaurant and bar and experience rustic savoury Italian cuisine.
About LJM Developments and Fraticelli's Italian Grill and Bar:
LJM Developments is real-estate development company based in Burlington, Canada. The company focuses on development of commercial and residential real-estate projects in Ontario. LJM entered the hospitality industry in 2013 by opening of Fraticelli's Italian restaurant in Burlington, Canada, and investing with a restaurant group in New York.
About Fraticelli's Italian Restaurant:
Since September 2013, Fraticelli's Italian restaurant and bar in Burlington have been preparing the finest authentic Italian dining experience. Ideal for family gatherings, friendly outings, business lunches, or intimate dinners with your loved one; Fraticelli's restaurant and bar has something for everyone.
####
If you would like more information about this topic or need to make further press inquiries, please contact LJM Developments at 289-245-1900 or e-mail: info@ljmdevelopments.ca
For Reservations & Contact of Fraticelli's Italian Restaurant: 1860 Appleby Line, Burlington, ON L7L 6A1 | Tel: 905.332.9769 | Email: Appleby(at)fraticellis(dot)ca | Web: http://www.fraticellis.ca