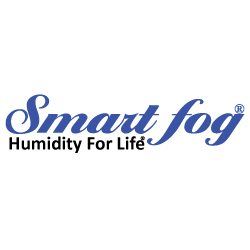 Smart Fog puts safety first. Low voltage and low pressure
Reno, NV (PRWEB) February 27, 2014
Smart Fog Introduces introduces new dust suppression features to the popular ES100 series commercial humidifier.
"Smart Fog aids in the reduction of dust and airborne bacteria/viruses from the air" explains Ido Goldstein director at Smart Fog.
The Smart Fog decorrelation technology injects Oxygen into every droplet dispensed. Smart Fog technology reverses the correlation effect through a non-chemical mechanical process. The technology reverses the cohesion and maximizes adhesion. Dust and airborne diseases, bacteria, viruses particles and spores are attracted to the Smart Fog droplets by adhesion and are oxidized.
In order to achieve 100% dust suppression, droplets smaller than 5 microns must be in the air. Droplets of 5 microns or larger naturally retract air particles, and doesn't suppress small dust and other airborne particles. Smart Fog technology provides even 4.2 micron droplets which are ideal for 100% dust suppression.
Smart Fog systems are engineered for installation and operational safety. All-electric systems within the system do not exceed 24VDC 0.2 W. The low voltage ensures that both low-energy consumption and operator safety. Additionally, the humidifier itself operates completely pneumatically and does not contain any electric parts. Smart Fog commercial humidifiers operate primarily powered by low pressure compressed air. Low pressure compressed air allows for safe operation coupled by simpler and faster installation.
About Smart Fog Inc
In business since 1980, Smart Fog Inc. is the recognized world leader in non-wetting commercial and industrial humidification solutions. Smart Fog's unique technology provides precise humidity enforcement, light speed uniform coverage and intelligent non-fluctuating humidity control. All Smart Fog products are all engineered and manufactured in the USA. Smart Fog staffs a full range of engineers to advise commercial printers, in-plants, and manufacturers on humidity management and environmental control for operation efficiency and employee comfort.
For more information, visit: http://www.smartfog.com