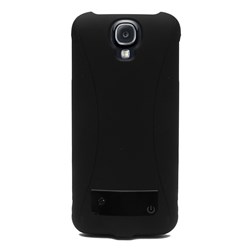 Charge your Galaxy S4 with LifeCHARGE.
Dallas, TX (PRWEB) December 02, 2013
OnTrion, the manufacturer of extended batteries and accessories for all the major smartphones, wants Samsung Galaxy S4 lovers to get the most out of their beloved smartphone this holiday season. To that end, the company has partnered with Best Buy for an after Black Friday special deal on the LifeCHARGE™ Battery case for the Samsung Galaxy S4.
Last month CNET (http://crave.cnet.co.uk/mobiles/galaxy-s4-reportedly-hits-40m-sales-roughly-on-par-with-s3-50012589/) ran the headline "Galaxy S4 reportedly hits 40m sales, roughly on par with S3." What's more, the smartphone reached that impressive 40 million mark in a matter of just six months. That means there are a lot of brand new Galaxy S4 owners scattered across the globe. Given consumers' addiction to their smartphones, it stands to reason that many of these individuals will be clamoring for accessories for their mobile device this holiday season.
OnTrion is poised to meet that demand just in time for holiday bargain hunting via a partnership with Best Buy. Beginning November 30 and running through December 7, the LifeCHARGE™ Battery Case for Samsung Galaxy S4 (Model: ONT-PWR-34693) will be on special sale at Best Buy (SKU: 2601087). Best of all, this partnership ensures that shoppers are getting the very best deal possible on the case.
That is because Best Buy recently announced its Holiday Low Price Guarantee, which will run through Christmas Eve. "Throughout the holiday season, any customer who buys an item from Best Buy and then finds a lower price from a major competitor – or if (Best Buy) lowers its own price – will be eligible for a price match and a refund for the difference," Reuters reported earlier this month.
For additional information on the LifeCHARGE battery case for Samsung Galaxy S4, visit the company on the Web at http://www.ontrion.com/lifecharge. To learn more about the superior extended life features the product offers, contact OnTrion's Palki Kochar.
CONTACT INFORMATION:
Palki Kochar
13650, TI Blvd., Suite #309
Dallas, TX 75243
(877)676-0877
http://www.ontrion.com