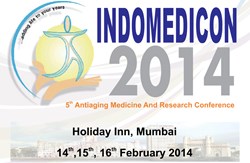 "Social Jet lag is converting young adults to old young "
Mumbai ,India (PRWEB) December 03, 2013
In their current fast pacing and stressful lives, people are aging faster. From "Young Adults", they are becoming the "Old Young". Working against the body clock has produced "SOCIAL JET LAG" in everybody; by altering the body stress management (hormones), the system has compounded the problem and aging is happening much before true age. The age of onset of diseases like diabetes, hypertension, heart attack, cancers, etc., has shifted from 50's to 20's and 30's.
"Early aging is multifactorial, and the 4 key components of early aging need to be dealt with utmost expertise and to the root level," says Dr. Chaturvedi.
1) Obesity
2) Hormonal Imbalances
3) Stress
4) Skin & Aesthetics
If every specialist and super specialist focuses on the above mentioned 4 factors in the light of clinical presentations, then much more help can be given to patients. This way the acquired early aging process can surely be slowed down.
The anti-aging approach of medicine is about customization of treatment. Currently, it can be considered more as an individual centric treatment. With more and more physicians joining the anti-aging network and implementing anti-aging medicine in their practice, this evidence-based approach has the potential to become population centric medicine.
As with any new approach in medical practice, anti-aging medicine is also facing some criticism among the medical fraternity. The reasons being:
1) Medical fraternities strongly resist any change in opinion.
2) Anti-aging physicians have somehow projected themselves as separate from the other specializations.
3) Anti-aging physicians and pharmacies are possibly somewhat possessive of their products and prescriptions.
4) There is a lack of dialogue and debate between anti-aging physicians and other specialty physicians (for and against protocols).
The time has arrived for anti-aging physicians and other specialty physicians to come together on a platform and have a strong and fruitful discussion about this wellness approach, its protocols and products, and the future of anti-aging medicine. In an attempt to bring various specializations together to discuss the aging process and anti-aging approach, "Anti-aging Medicine And Research (AMAR)" conducts frequent workshops and annual conferences.
After successful conferences in 2009, 2010, 2011 and 2013, the next I NDOMEDICON - 2014: 5th "Anti-aging Medicine And Research (AMAR)" Conference is to be held in collaboration with the World Anti-aging Network and Medical Wellness Association USA, on the 14th, 15th and 16th of February 2014 at Holiday Inn, Mumbai.
"Anti-aging Medicine and Research (AMAR)" India, Medical Wellness Association USA, and the World Anti-aging Network join hands to bring the latest advances and protocols of anti-aging, aesthetics, and wellness medicine to the business capital of "Incredible" India. INDOMEDICON is attended by many like-minded physicians with an interest in anti-aging, age management, and wellness medicine, and offers a perfect networking platform for active participation, healthy discussions, dialogues and debates.