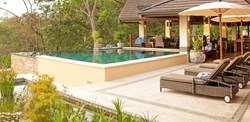 (PRWEB) December 19, 2013
As the world becomes more and more interconnected through the media, air travel and the internet, the possibilities of hosting an exotic wedding become more of a possibility for the average American or Brit. The number of destination weddings has exploded over the past decade, opening up new markets and areas never before considered. These days, 1 of 6 American couples and 1 of 5 British couples gets married abroad—the highest ever in recorded history. No longer are brides-to-be content with the traditional black-tie wedding at the local church. Now, husbands-to-be look to create a more memorable, exotic and significant event to recognize their union.
In addition to upping the ante for a wedding's location, more and more weddings are providing additional entertainment to guests. The modern wedding is no longer a somber ceremony followed by a dry reception. Fiancées strive to create a memorable experience for their guests with live music, dancing performances, and outdoor activities. Destination weddings allow guests to experience the culture and activities of a completely different country.
With its proximity to the United States, tropical vibe, edge of adventure, and extensive coastline, Costa Rica is quickly moving to the top of the destination wedding 'hot list'. For most states in the U.S.—and all of Great Britain—Costa Rica is both closer and less expensive than comparable destinations such as Hawaii. In 2012, the average American wedding cost $28,427—and this number is on the rise in 2013. In Costa Rica, for the same amount couples can host a wedding at a beautiful vacation rental home overlooking the Pacific ocean.
Los Elementos in Dominical brings both elegant luxury and tropical exoticism within reach of prospective couples to-be-married—and is now open to small destination weddings up to 60 people. The private rental property consists of two villas fit for the magazine covers: 1) Villa de Agua: a 4-bedroom, 12,000-square-foot Balinese masterpiece, just minutes away from the beach, and 2) Villa del Lago: Its studio guest house, overlooking cascading lotus ponds. Together they represent the upper echelon of vacation rentals in Costa Rica—and an immaculate stage for a special destination wedding.
While Villa de Agua is the royal palace, there is also a small development of nice, but affordable, rental homes within walking distance. Weddings can be held either at the villa itself, or at the local beach, Playa Guapil. Any number of services is available to guests—from a myriad of adventure tours, to spa services, live music, and even fireworks. A live-in concierge is present at all times to coordinate any services required, and ensure that the event goes smoothly.
A trip to Costa Rica is an amazing experience in itself; getting married at Villa de Agua in Dominical, Costa Rica is a once-in-a-lifetime dream.