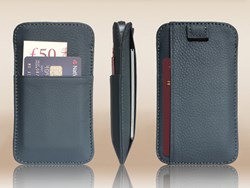 Capable of holding up to 8 cards with cash.
London, UK (PRWEB) December 03, 2013
Vaultskin is excited to announce the launch of its brand new range of iPhone sleeve wallet cases. Capable of holding up to 8 cards with cash, these products are truly innovative and are a strong addition to the Vaultskin product line.
The new range consists of two sleeve wallet cases designed in London, England, and aptly named the Windsor and the Mayfair. Each version features a retractable pull-up strap for easy access to your handset and the trademark Vaultskin card pockets - a smaller two-card front pocket and a larger seven-card back pocket.
The Windsor is a timeless classic providing ample storage, making it ideal for those seeking the ultimate in functionality, whilst the sleeker Mayfair offers a more compact design shaped for simplicity. Both models are crafted from the finest premium leather and are currently supplied in Onyx Black and Navy Blue. Lovingly packaged, these new cases will make beautiful gifts and are available in time for the upcoming festive season.
About Vaultskin
Inspired by the success of their original phone wallet cases which now boast thousands of happy owners, Vaultskin strives to constantly enhance their range, welcoming customer feedback to drive improvements whilst ensuring that the existing high quality is maintained.
Designed in London, England, Vaultskin fuses enduring elegance, leading-edge technology and British practicality in an unparalleled family of premium product, supported by consistently excellent customer service.