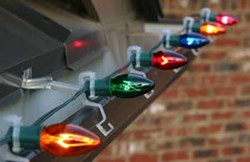 Dallas, TX (PRWEB) December 03, 2013
While decorating the residence for the upcoming holidays, homeowners should make the best of their time and follow these 3 tips that will help prevent foundation repairs.
1 - While stringing lights around the roofline, use that time to check on the gutters and make sure they are free from debris and leaves obstructing the downspouts. Also check the corners of the gutters and assure the seams are water tight by using a water hose to fill up the proximity of the corner with water.
2 - When stringing the hedge lights check the downspouts to make sure they are correctly installed. Making sure they slope away and extend at least 3 feet away from the perimeter of the foundation will help control erosion and water standing around the house. If the downspout has a buried pipe, this would be a good time to test and make sure the drain is free flowing and does not backup to the house foundations.
3 - Before stringing lights and decoration around the bushes and small trees around the house, trim and check the root system. Keeping the roots away from the foundation and removing any overgrown bush or tree will help insure that the foundation is not under stress from the plants root system.
Premier Foundation Repair Inc. has been in Dallas for over 30 years and has helped countless homeowners with their foundation repairs concerns.
------
PREMIER FOUNDATION REPAIR INC.
3767 Forest Lane Dallas, TX 75244
Phone: 972-417-0823
Fax: 972-416-0104