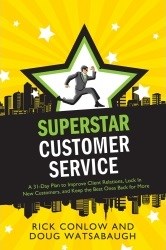 No matter what position you hold in a company, a focus on customer service excellence offers you the greatest chance for career advancement.
Minneapolis/St. Paul, Minnesota (PRWEB) December 05, 2013
Rick Conlow and Doug Watsabaugh, co-founders of WCW Partners, Inc., a global management consulting firm, announce the release of their third book in the superstar book series. It's called Superstar Customer Service: A 31 Day Plan to Improve Client Relations, Lock in New Customers and Keep the Best Ones Coming Back for More. Rick and Doug have consulted with some of the biggest companies in the world and have helped their clients improve their customer experience and retention 10 points or more, reduce complaints over 60% and win 34 service awards.
Employees who want to accelerate their careers or managers who desire better team results will benefit from Superstar Customer Service. Thousands of employees have learned from the authors in customer service seminars throughout North America.
Superstar Customer Service provides tools, tips and techniques that keep customers for life. Participants will study and apply the concepts at their own time and speed. The book includes a patented customer service assessment and analysis, real life examples, specific action steps that work and applications to apply today.
Readers will learn through applications how to deliver an outstanding customer experience. They will be guided to set themselves apart from others, gain greater pride in their work, and learn skills that will be helpful for career development.
If you want to help improve your company's customer experience and take pride in your customer service, check out this unique book. Superstar Customer Service shows the difference between the best and the rest while chiding companies and people for poor service. The authors clearly outline the benefits of excellent customer service for companies and employees alike. Doug and Rick declare there is no excuse for poor service in this day and age.
Other books in the superstar series include: Superstar Leadership and Superstar Sales.
Co-Founders Rick Conlow/CEO and Doug Watsabaugh/COO of WCW Partners have more than 50 years of combined business, training and leadership experience. Their company partners with organizations to increase sales and customer retention, while simultaneously improving employee loyalty, engagement, and productivity. Clients include 3M, Meijer, Rite Aid, Canadian Linen, AmeriPride, Honeywell, Entergy, Nash Finch, Northern Power, Pepsi, and Target.