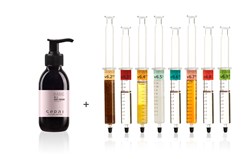 (PRWEB) November 30, 2013
The skincare line consists of over one hundred products that can additionally be customized with additives for each unique user. The complete product line addresses issues for both the body and the face. Sepai works on the skin at the cellular level in a number of ways. It increases cellular longevity and recharges cellular energy. The skincare line also improves and stimulates the quantity and quality of collagen. In addition it improves elasticity, and skin firmness and defends against environmental factors that cause skin aging.
What is truly unique is the degree of customization that is available with this skincare line. After a brief questionnaire a skin regimen product is designed with up to three additives that are mixed into a base that is determined to best align with the skin type. Hundreds of combinations are possible to address each person's unique skin problems.
Sepai is the perfect complement to the many body treatments offered at Precision Aesthetics. It has been in use for more than a decade, is backed by a lot of research, and has an extensive line of products for the body as well as the face. Sepai was a natural for Dr Zdinak, who is constantly searching the globe for the best products for her international clientele.
Lisa A. Zdinak, MD, medical director of Precision Aesthetics is a go to expert for patients from all walks of life and over fifty countries as well as the media. As a classically trained plastic surgeon, she has sourced more than a dozen non invasive technologies from the US and abroad. She attends her patients at 10 West 74th Street in Manhattan just steps off Central Park. Among her many firsts for New York were Exilis from the Czech Republic, for body shaping, Dermaroller from Germany, for scars, and Carboxytherapy for stretch marks, from Brazil. In addition Precision Aesthetics was the first with every new Thermage device and updates since 2007. Also offered are traditional fillers as well as Mesotherapy from France and growth factor fillers popularized by Kim Kardashian. The list of non invasive solutions are endless, SilkPeel vitamin dermal infusion, Illumiwave Lipocontour 635 for fat reduction and Acoustic Wave for cellulite reduction to name just a few more.