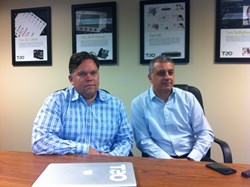 Our partnership provides TEO with an early mover advantage and will create multiple opportunities to jointly deliver cloud-based communications solutions
SAN BRUNO, CA (PRWEB) December 02, 2013
Bright Pattern, the only provider of next-generation cloud contact center solutions, announced today that it has formed a strategic partnership with TEO Technologies, a leading North American provider of unified communications services.
As part of the agreement, TEO becomes a strategic partner, marketing and providing consultation and implementation services for Bright Pattern's ServicePattern cloud contact center suite in North America. Likewise, Bright Pattern is investing in sales and marketing efforts to increase TEO's presence among existing contact center customers.
The two companies have developed a joint business plan and offer software solutions and services that help corporate, government and other enterprises leverage the best technology to respond to evolving telecommunications and customer experience management needs.
"We see Bright Pattern as a driving force in the contact center arena, fostering the development of multiple cloud-based applications. Our partnership provides TEO with an early mover advantage and will create multiple opportunities to jointly deliver cloud-based communications solutions," said Thomas Beck, director of marketing and business development at TEO. "We're very excited about the prospects for this partnership and already looking forward to closing some significant opportunities in the first half of 2014."
Erhan Cakmak, co-founder and vice president, global alliances and channels, Bright Pattern agreed, saying, "Partners are key to Bright Pattern's continued growth strategy. We are pleased to partner with an established and like-minded company like TEO to further help our mutual customers bridge the gap between their strategy and execution. Integrated multi-channel cloud-based engagement channels are key to managing the customer experience for retention and revenue growth."
TEO Technologies specializes in unified communications and secure telephony solutions for SMB and Enterprise companies, government agencies and educational institutions. TEO is headquartered in Mukilteo, Washington.
# # #
About Bright Pattern
Say goodbye to overly complex and costly contact center infrastructure. Bright Pattern offers the next generation of cloud-based contact center and customer experience management solutions. With flip-the-switch activation, you can deploy in days and make changes in minutes. As a multichannel, unified, fully featured solution, our ServicePattern™ platform helps you manage the complete life cycle of customer experience. Architected from the ground up as a cloud-based service, Bright Pattern offers the right blend of enterprise-grade functionality, reliability, and scalability not otherwise available in the industry. For more information, visit http://www.BrightPattern.com.