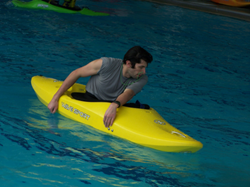 (PRWEB) November 30, 2013
This winter, paddlers won't have to put away all their gear and wait for the seasons to change to hop in a boat again. Massachusetts adventure outfitter Zoar Outdoor has announced its schedule of indoor pool rolling sessions for February, March and April 2014. These two-hour clinics focus on helping paddlers improve their roll - their ability to right a capsized kayak without getting out of their boat.
Rolling is an essential skill for boaters. Whether paddling a whitewater kayak, a whitewater canoe, or a sea kayak, being able to right a boat even when far from shore or in the middle of a tricky rapid is crucial. It can be a hard skill to perfect, though. Zoar Outdoor's pool rolling sessions offer the perfect environment to really focus on the skill and dial it into muscle memory. Away from moving water, paddlers can devote all of their attention to the task at hand, while instructors help them hone in on the techniques they can use to maximize their efforts. The clinics' low, 3:1 student to instructor ratio ensures that all paddlers have all the personal attention they need, so paddlers can get the most out of their time on the water. It's the perfect way to both stay in paddling shape and develop skills during the winter months. Zoar Outdoor's pool rolling sessions are open to all paddlers with some previous paddling experience, and are meant to help everyone from beginners to advanced paddlers working on a basic roll or any variation thereof.
This winter's pool rolling clinics will be held on select Saturday evenings in February, March, and April at the Hockomock Area YMCA in Franklin, MA. For more information and to sign up, visit Zooar Outdoor's website or call 1-800-523-7483.