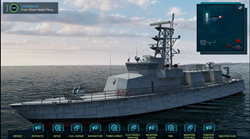 The MVE Software Defined Simulator, MVE SDS, is set to revolutionize military training and strategy initiatives.
Palo Alto, CA (PRWEB) December 02, 2013
Silicon Valley technology company MVE Systems, Inc., a Palo Alto based software company that develops mobile and internet applications for government, industry, and academe worldwide, has partnered with the Philippine based Game Services Group, Inc. to create the MVE Software Defined Simulator, or MVE SDS, a training and simulation program that will train sailors in operating various ships and weapon systems, and in familiarizing themselves with different naval scenarios and threats. MVE Systems, Inc. and Game Services Group, Inc. announced today that the Philippine Navy has licensed MVE SDS, placing the revolutionary platform in the training and strategy initiatives of the Philippine military.
"MVE Systems, Inc. is proud to provide the MVE Software Defined Simulator as the main technology that will prepare the Philippine Navy for their future missions. We are committed to providing the most realistic, effective and immersive training for the Philippine Navy," said Eric Manalac, MVE Systems' Chief Technology Officer. Dr. Paul Lim, Senior Researcher and Lecturer at Stanford University's Electrical Engineering Department, is leading the development of the MVE SDS.
MVE SDS will be used to build and simulate various classes of ships, aircraft, submarines, and associated weapon systems. Incoming military recruits will be trained in a virtual environment prototypical of the tactical employment and defense they will find in an actual ship, allowing them to master various skills in sensor and weapon handling. In addition to simulating multi-mission scenarios with a mission editor that can be centrally managed by an instructor, MVE SDS has the capability for users to direct movements of the ship, and monitor movements and actions of friendly and enemy ships, aircraft, missiles, and submarines in the area. MVE SDS incorporates recent advances in Cloud Computing, Artificial Intelligence, Machine Learning, and Big Data to deliver a next-generation training and simulation environment.
"Outside of the excitement around the simulator itself," Dr. Lim said of MVE SDS, "we're very excited to be partnering with Game Services Group, Inc., a Class A vendor for Philippine military initiatives, and look forward to future partnerships."
Exhibiting annually at the world's largest modeling, simulation, and training conference I/ITSEC 2013 (Interservice/Industry Training Simulation and Education Conference), which this year happens December 2 to 5 in Orlando, Florida – MVE Systems, Inc. will be showcasing their MVE SDS as well as their other technology products and services for the defense industry and academe. MVE Systems, Inc. is actively pursuing further partnerships focused on the regions of Southeast Asia.
For inquiries, MVE Systems, Inc. will be at Booth #881 at Orange County Convention Center at Orlando, Florida from December 2 to 5, or contact Joshua Bane, Product and Training Manager, at joshua.bane(at)mvesystems(dot)com.
About MVE Systems, Inc. and Game Services Group, Inc.
MVE Systems Inc. is a Silicon Valley technology company building Mobile and Internet Applications for Government, Industry, and Academe. Their current and past slate of projects includes everything from interactive online learning and simulation to fully supported data management and tracking initiatives for both web and mobile. Clients include a strong slate of institutions and universities, such as LMI, SAIC/Leidos, The University of Akron, and a continuing relationship with the U.S. Department of Defense.
Game Services Group, Inc., based in Manila, Philippines, is a developer of both consumer gaming and industry simulation initiatives. Game Services Group, Inc. is fueled by a seasoned team of game and mobile application developers that have worked on over 3 billion dollars' worth of product for esteemed game developers such as EA, Sony, Activision, and Microsoft.