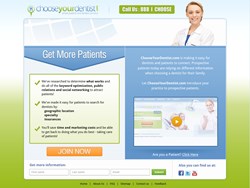 Time invested now in taking care of your oral health could save a lot of time, money and pain later.
Dallas, TX (PRWEB) November 30, 2013
Many consumers miss out on the full benefit of their dental insurance coverage. ChooseYourDentist.com, the premier online website which helps dentists and patients connect, advises consumers to find a Dallas dentist and receive treatment before their dental insurance benefits expire at year-end.
ChooseYourDentist.com is reminding consumers about the upcoming deadline to take full advantage of their 2013 dental insurance benefits. With the upcoming holiday season, many consumers become so busy enjoying time with friends, shopping, decorating and eating that they don't realize their dental insurance benefits may run out by the end of the year. The company says that most dental insurance policies cover a total of $1500 to $2500, which can provide a substantial amount of dental care; however, consumers might lose this opportunity if they don't see a dental professional in time.
ChooseYourDentist.com also advises patients that any dental work they want covered must be completed and the paperwork submitted by the end of December. They warn that many dental practices get busy, especially because so many students are on vacation, and it could take several weeks to find an open appointment, and recommend contacting a dental professional now so there is sufficient time for the initial examination and any work that needs to be performed.
"Time invested now in taking care of your oral health could save a lot of time, money and pain later," commented site founder Feridoon Amini. "In addition, many practices use high-tech equipment to complete many dental procedures in just one appointment. Dentists now have a wide variety of CAD/CAM equipment available to make the dental restoration process easier and less painful." Amini cited CEREC as an example of a dental restoration system that allows a dentist to use digital images to create a dental crown in one sitting without the use of dental trays or molds.
Patients interested in one-visit restorations who do not have a dental professional can use ChooseYourDentist.com to find a cosmetic dentist or family dentist who uses CEREC technology. For example, Dr. Anup Naik of Cosmetic and Family Dentistry in Irving, TX offers cosmetic dentistry and general dentistry. Patients in need of other dental specialties can find information on dental practices such as Dr. Allen Gandy, an orthodontist in Frisco, TX and Dr. Carlos Nurko, an orthodontist in Plano, TX.
"ChooseYourDentist.com makes it easy to find a Dallas dentist so you can use your dental benefits by the end of the year," concluded Amini. "It's part of our mission to make it easier for patients in Texas and California to take care of their health, find the right dentist, and take advantage of their dental benefits."
About ChooseYourDentist.com:
ChooseYourDentist.com is an online portal where patients and dentists connect. The site help patients find a dentist who can meet the oral care needs for their whole family. Further information on ChooseYourDentist.com may be found at http://www.ChooseYourDentist.com, by calling 1-888-I-CHOOSE, or by email at info(at)ChooseYourDentist(dot)com.