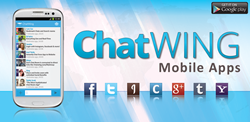 New York, NY (PRWEB) November 30, 2013
The Chatwing chat software has generated a large buzz in different communities today, based on the feedbacks of different web users. Since the buzz has contributed largely to the growing user base of Chatwing chat app web tools, the company decided to create an Instagram marketing app. With this tool, Instagram users can now harness the different communication advantages offered by Chat Wing.
The Chatwing chatroom is a simple tool, but it is equipped with professional features that can benefit any Instagram marketer. Through the chat box, registered users can gain a continuous following in the cyberspace. This simply means that the marketer will have continued exposure for his product or service. Instagram marketers can also use the chatroom's Facebook, Twitter, and Tumblr login options. Secondary login methods are Google and Yahoo.
Another advantage posed by the Chat Wing tool is premium service. The premium features of the widget have been in the market for more than two months now, and they contribute to better live chat experience for all users. Premium services can be bought through virtual coins; each virtual coin has a monetary equivalent of $1.
Based on the analysis of the Chatwing chat room developers, the exposure offered by the widget can reach as high as 70%. Other factors should be included though—website content, product/service value, other marketing initiatives, and social techniques of the marketer. For more widget updates, Instagram users and marketers can check out Chatwing's official blog and Facebook page.
About Chatwing.com
Chatwing.com is a company that has brought innovation to the modern chat widget. Operating for more than five years now, Chatwing and its team of developers have dozens of ideas ready to be introduced to the public. The Chatwing chat app is an easy-to-use online tool that can help web users interact with each other and can also generate continuous traffic. Chatwing will always be a "freemium" application for everyone.