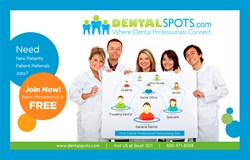 DentalSpots.com is working to streamline the process dental practices use to connect with dental job seekers, dental patients and dental vendors in one online location
Dallas, TX (PRWEB) November 30, 2013
DentalSpots.com, the one-stop website that offers everything today's dental practice needs to thrive and grow, understands the pressure dental practices undergo at the end of the year. Parents bring their children in during school breaks, college students who are home for the holidays may come in for a quick check-up, and patients with dental insurance often want to schedule a visit before their benefits expire. The online dental hiring platform offered several steps that dental practices can take now to get ahead of the year-end rush.
DentalSpots.com advises dental practices that the best time to fill open Texas dental jobs is right now. They shouldn't wait until the phone is ringing off the hook to fill an open dental hygienist job or find somebody for their open dental assistant job because that will be too late. Dental employers can use DentalSpots.com to find full-time, part-time and temporary dental employees who can help them get through the end-of-year rush.
To control scheduling, the website says that it is helpful to reach out to patients instead of waiting for them to call. This is the perfect time to remind patients of any remaining dental benefits on their dental insurance. One tip is to conduct a search in the patient management system to find patients with unfinished treatment plans and place telephone calls to those who have unused dental benefits to set up an appointment. This practice can help the patients achieve optimal oral health. The site can also be used to network with other dental professionals and find out what ideas they have to prepare for the end-of-year rush.
Since many dental practices feel that there is nothing worse than having a full schedule full of patients and running out of supplies or having a crucial piece of equipment break down, DentalSpots.com will soon add a new feature which will make it possible for vendors to connect directly with dental offices.
Dental practices can begin building next year's marketing plan through DentalSpots.com's sister site, ChooseYourDentist.com, which helps dentists in Texas and dental professionals in California connect with new patients. "DentalSpots.com is working to streamline the process dental practices use to connect with dental job seekers, dental patients and dental vendors in one online location," commented founder Feridoon Amini. "Our goal is for DentalSpots.com to be able to handle the administrative aspects of the business so dentists can concentrate on providing services to their patients."
About DentalSpots.com: DentalSpots.com is the premier, full-service online portal where dental professionals can network, fill dental jobs, connect with patients and find dental vendors. Further information may be obtained by visiting the website at http://www.dentalspots.com, connecting on Facebook, following @DentalSpots on Twitter, or calling 1-800-971-8008.