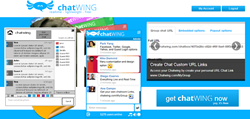 Cambridge, MA (PRWEB) December 01, 2013
Chatwing has added another widget for product reviewers who are working around the Instagram market. Through this latest widget, web users can take advantage of seamless online communication, aside from potential social media benefits. The application can also be embedded to websites, providing in the continuous generation of web traffic.
To use the Chatwing app, the user needs to register in the database first. Registration takes only a few seconds, since the user just needs to input his email address and a custom password. After that, he can now proceed to his account dashboard and start modifying the chatrooms. The modification process is where the Chatwing tool truly shines. There are hundreds of chatroom combinations to choose from. Overall chat software themes are available in case the user is eager to finish the customization right away.
Product reviewers can take advantage of the tool due to information relay. If a product reviewer hits a data barrier, he can rely on the help of other web users. By sharing pictures in any Chat Wing chat room, the product reviewer has a higher chance of getting helpful data. Since Chatwing widget has numerous social media functions, the product reviewer has boundless options.
The Chatwing chat app team is planning to launch more features in the coming weeks or months. With these features, the Chatwing widget will gain more value in the premise of online chat and social networking. Product reviewers and web users can check out the updates in Chatwing's Facebook page.
About Chatwing.com
Chatwing.com is a company that has brought innovation to the modern chat widget. Operating for more than five years now, Chatwing and its team of developers have dozens of ideas ready to be introduced to the public. The Chatwing chat app is an easy-to-use online tool that can help web users interact with each other and can also generate continuous traffic. Chatwing will always be a "freemium" application for everyone.