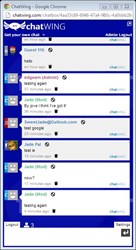 New York, NY (PRWEB) December 02, 2013
Upon launching the Instagram login for the Live Chat App 3.5, Chatwing.com has emphasized the popular pictures that are currently circulating in the chat rooms. These pictures were taken by Instagram users, and were sorted into categories. According to Chatwing chat room developers, the pictures can help increase product or service exposure for Instagram users.

Product pictures. Instagram marketers have utilized the Chat Wing chat software in promoting their products. Through the pictures, web users and prospects will learn more about the products and services being offered. Once the users have checked out the products, the Chat Wing tool will serve as a way for the customers to have inquiries regarding the products.
Advocacy pictures. Sharing is common in Instagram. It has also become common in the Chat Wing website chat platform as well. By using the Chatwing chat app, advocates can now reach hundreds, if not thousands, of web users within a definite time. Since the Chatwing tool has different social media options, users will gain new ways on how to reach out to people.
About Chatwing.com
Chatwing.com is a company that has brought innovation to the modern chat widget. Operating for more than five years now, Chatwing and its team of developers have dozens of ideas ready to be introduced to the public. The Chatwing chat app is an easy-to-use online tool that can help web users interact with each other and can also generate continuous traffic. Chatwing will always be a "freemium" application for everyone.