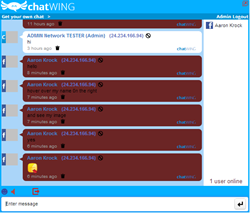 New York, NY (PRWEB) December 03, 2013
Chatwing Development has recently launched the Instagram plugin for the Live Chat App 3.5. Through this enhancement, Instagram users can log in with their accounts and start making social connections. With the launch of the Instagram login, Chat Wing developers are certain that more web users will install Live Chat App 3.5 for their blogs.
"The Live Chat App 3.5 is the new age of chatrooms," says Mike Diamond—the core developer for Chatwing platform. "It will be a continuous project and we will continue making useful and interesting stuff for all of our users. There will be more social media sectors, premium advantages, and even chat networks to expand all niches."
The Instagram login method was launched after the introduction of the Tumblr login. Chatwing developers are certain that the quick release of these login methods will be noticed by web users from different niches. Additionally, the team has also improved the login efficiency of Facebook and Twitter. There are still no known changes regarding the Google and Yahoo login methods.
The Live Chat App 3.5 is also expected to reach Android users within a matter of days. By reaching the Android community, Chatwing chat software can extend the benefits of efficient live chat experience without hindrance. The developers are also planning to launch more exciting features for Android users.
By creating enhancements to the chatroom widget, the Chatwing Team is helping everyone gain optimum communication leverage. Web users can expect for more beneficial changes in the coming months.
About Chatwing.com
Chatwing.com is a company that has brought innovation to the modern chat widget. Operating for more than five years now, Chatwing and its team of developers have dozens of ideas ready to be introduced to the public. The Chatwing chat app is an easy-to-use online tool that can help web users interact with each other and can also generate continuous traffic. Chatwing will always be a "freemium" application for everyone.