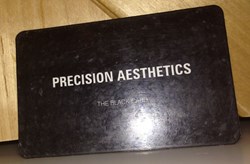 (PRWEB) November 30, 2013
The Precision Aesthetics Black Card was designed to give people the opportunity to give a customized gift of beauty that literally can keep on giving. It is available in denominations from $100 to $100,000. The black card allows one to give a gift that the recipient can use to buy a luxurious cream imported from Europe or Australia, or a series of treatments spanning multiple years. It was designed to give the giver and the receiver the ultimate in privacy and flexibility. With no expiration date, the recipient can truly enjoy a larger gift for years to come while privately taking advantage of the latest technologies to tighten skin on any part of the body or face. Also available are combination treatments that can simulate a non invasive face lift, utilizing a combination of fillers and skin tightening technologies.
Precision Aesthetics was the first in New York to offer the Thermage NXT and was the only Black Diamond and Pinnacle Award winner every year since 2007. Thermage is recognized as the ultimate and safest in skin tightening for over 12 years. Thermage can be used on multiple body parts as well as on the face. Exilis, another radio frequency device for fat reduction and body shaping, was also introduced by Precision Aesthetics to New York. More recently Precision Aesthetics became the first provider of the cold laser, Illumiwave Lipocontour 635, for fat reduction. The Illumiwave operates using 635nm of cold laser to allow fat to literally leak out of the cells completely pain free. One of the more popular treatments is SilkPeel, otherwise known as the Black Tie facial. Besides, Obaji and Elure, Precision is the sole provider of Australia's leading skin care line, Ultraceuticals. This month marks the introduction of skin care line Sepai from Spain. There is no shortage of things to use your gift card on. Once loaded it operates like a typical credit card. Balance and other information are all available on the web and by phone.
Precision Aesthetics services a clientele that range from New York to Hollywood and every corner of the globe. Lisa A Zdinak, MD is the medical director. She is the author of numerous articles and has been interviewed numerous times for television as well. Precision Aesthetics is located at 10 West 74th St at Central Park West.