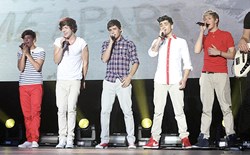 New York, NY (PRWEB) November 30, 2013
Ticket Down announces that demand is at an all time high for One Direction tickets for their upcoming stadium tour entitled "Where We Are." When it comes to boy bands in 2013, only one reigns supreme as the most popular and the most loved: One Direction. The group became superstars in 2011 with their single What Makes Your Beautiful and things have never been the same since. The group, made up of Harry Styles, Zayn Malik, Niall Horan, Liam Payne and Louis Tomlinson, has become international superstars and has recently announced a new tour beginning in 2014. The North American tour, titled "Where We Are" will kick off in Toronto, Ontario, Canada on Aug. 1st at the Rogers Centre and end at Sun Life Stadium in Miami, Florida on October 5th.
The current tour currently features 21 dates, but as the group continues to gain in popularity, they will likely add more dates across the United States and Canada. The English-Irish group has created an uproar in the music business, which even made some throw around comparisons to The Beatles. The United States hasn't seen a boy band of this magnitude since the days of Backstreet Boys and N'Sync. Just like with those other boy bands, it seems that every fan has their own favorite member of One Direction, but not matter who the favorite, it is the entire group that wows fans around the world.
At this point, it isn't only about the music for this group. They have become pop icons and retailers like Macy's have seen this and have created their own line of One Direction fragrances. The group has also been seen in other mainstream sponsor spots and even has their own movie One Direction: This is Us, which features live concert footage and behind the scenes access.
Fans looking to attend their 2014 concert can expect to see their favorite five-some play all their most popular songs from their three albums, "Up All Night," "Take Me Home," and "Midnight Memories." The latter was just released last week in the United States, but has already opened near the top of the charts in Ireland, Switzerland and Sweden. Among the songs that fans can expect to hear at the "Where We Are" tour include Live While We're Young, Little Things, Kiss You, One Way or Another (Teenage Kicks), Best Song Ever, Story of My Life and of course their mega-hit What Makes You Beautiful.
After just two albums, this group has already turned into superstars when it comes to record sales. They have sold more than 19 million singles and 10 million albums around the world, including certified platinum status in the United States for each album and certified platinum in the United States for five singles. The group has won numerous awards and achievements and with plenty of time left in their music career, have a chance to add to their resume.
Tickets for the "Where We Are" tour will go on sale to the general public for shows in Dallas, Texas; Chicago, Illinois; New Orleans, Louisiana; Atlanta, Georgia; and all other dates on December 7th, making their show the perfect stocking stuffer gift for the entire family. This popular secondary ticket exchange is extending their customer appreciation promo code DISCOUNT for added savings. Currently, there are presale tickets available for all One Direction tour dates.