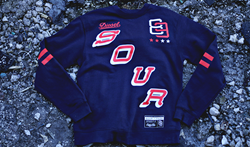 Miami, FL (PRWEB) December 02, 2013
8&9 Clothing is a Miami based streetwear brand known for merging music and fashion. Their latest collaboration with Styles P and Jadakiss will settle the greatest debate once and for all. Sour vs Haze jersey sweaters inspired by New York Rangers home and away jerseys will be available at 8and9.com and karmaloop.com
Sour, by Styles P comes in a limited edition navy/red Rangers jersey scheme. Huge 89 jersey numbers and Sour vs Haze name plate complete the Styles P for 8&9 Sour Jersey. The Jadakiss for 8&9 Haze Jersey incorporates classic heather grey and Yankee blue. Sour Diesel vs Purple Haze. Either way, you can't lose.
For more information on this special edition jersey collaboration follow @8and9 @realholidaystyle and @therealkiss.
Sour vs Haze Jersey collaborations are available this Monday evening 11:59pm.