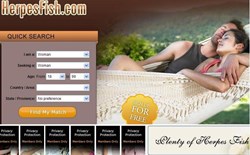 HerpesFish.com -- Your solution for avoiding any feelings of alienation, discomfort or anxiety about dating with Herpes.
(PRWEB) December 04, 2013
There's a common misconception that once someone has been diagnosed with genital herpes their life, as it once was, is over. Nothing could be further from the truth.
Although it's true that genital herpes is incurable and that it is a contagious, viral infection, it's neither debilitating nor in any way life threatening. It's not even a health risk as long as outbreaks are managed properly.
The fact is, having genital herpes should have little affect on someone's life at all. The reason it does is because of a public misconception, ignorance and misinformation.
Genital herpes is one of two herpes simplex viruses, both of which are generally referred to as "herpes". The first is herpes type 1, also called HSV-1 or oral herpes. The other is herpes type 2, or HSV-2. Type 2 is the herpes referred to as genital herpes. They are both HSV, and are equally contagious, incurable. In fact, both are fundamentally the same virus and it is possible through close, intimate contact for one type to be transmitted to the area of the body considered to be the area the other infects.
Herpes type 1 causes sores around the mouth and lips that are usually called fever blisters or cold sores. HSV-2 will generally cause sores to form around the genitals or rectum. However, in rare cases the sores and blisters associated with both types can appear anywhere on the body.
There are adjustments one must make when infected by either herpes. For example, during an outbreak sexual activity should be avoided, and any blisters or sores treated to keep the area clean and free of bacteria. Likewise, when oral herpes blisters and sores appear, kissing and oral sex should be avoided. An outbreak of either HSV1 or HSV2 can last from a few days to a couple of weeks depending upon the severity. However, just as no one who suffers from cold sores gives up dating or socializing with friends and family, a genital herpes sufferer need not either.
The severity of an outbreak differs from person to person, but so do outbreak intervals. Some people have an initial outbreak and never experience another. These people are still herpes positive, but suffer no symptoms. Other people can have long intervals between breakouts, months, years, even decades. Others can suffer outbreaks with only short intervals of being symptom free. Then there are those who are unaware they even have genital herpes because they've never experienced symptoms, or the symptoms were attributed to something else.
There is a stigma attached to sexually transmitted diseases (STD). Whether this is justified or not should depend upon the disease itself, and in the case of herpes it's not. The fact that the percentage of people with genital herpes is a quarter of the population provides a solution for sufferers. Rather than struggling with feelings of alienation, or having any anxiety about dating once diagnosed as having genital herpes, life can be lived to its fullest by socializing and dating within a community populated by other people who also have herpes
Recognizing that there is a need for a recognized genital herpes community, complete with support for sufferers, HerpesFish.com was founded to cater to a membership comprised of people with Herpes.
More than just a Herpes dating site, HerpesFish.com is an online community of individuals who share a common interest. The common interest is that the entire membership is living with genital herpes. However, the concept is no different than online communities catering to single parents, war vets with physical or mental health issues, or horse lovers. These communities are comprised of people who share a common interest or challenge.
Communities provide support for members, and it's no different with HerpesFish.com. Not only do singles meet each other, but HerpesFish.com offers its member support in the form of a 'STD counselor' that is available for online council Monday through Thursday, from 6:00 PM to 8:30 PM EST. Likewise, a 'dating advisor' service is available Monday through Thursday, from 6:00 PM to 8:30 PM EST as well. Of course most of the support an individual receives from a community is the sense of belonging that it fosters. Having someone to talk to that knows exactly what you are experiencing and will not judge you is liberating.
Why HerpesFish.com?
HerpesFish.com is a web community owned by a parent company that's been in business for over 12 years. When it comes to the Internet, more than a decade is virtually a lifetime. The company's longevity is due, in part, to the respect held for the privacy of it members. No personal information for members is ever made available to a third party.
Also, HerpesFish.com goes far beyond the services of a dating site. Dating sites offer advice, but they do not provide counselors who understand fully what the single biggest factor in their members' lives is, and how it affects them physically and emotionally.