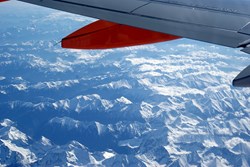 MaxMilhas aims to help make traveling more affordable while helping loyalty program members use their miles and points before the expire.
(PRWEB) November 30, 2013
MaxMilhas, A Brazilian startup launched in 2013 runs an airfare online marketplace where travelers can emit airfares for each other with their accumulated miles and points. Their service essentially allows loyalty program members to rescue their unused miles by issuing airfares and selling them to those travelers who would like to save money in their travels. Co-Founder Max said "MaxMilhas aims to help make traveling more affordable while helping loyalty program members use their miles and points before the expire."
Since their launch in 2013 MaxMilhas has saved travelers nearly one Million US Dollars. On the other hand, MaxMilhas has allowed loyalty program members to generate much more in revenue, as they connect through MaxMilhas and work out deals with each other.
MaxMilhas launched with the goal of helping loyalty program members use their points and miles before they expire. According to a report by the Banco Central, Brazil's federal financial institution, more than 100 Billion credit card points, and 30 Billion Airline miles expire every year! A 10,000 miles block on MaxMilhas currently sells fetches about 130 US$, therefore the yearly loss to Brazilian consumers is 1.7 Billion US$, an astronomical figure. MaxMilhas strives to minimize this number while transferring the value from expiration to consumers.
MaxMilhas plans on expanding their service to server a broader audience in the coming months. They are gearing up to serve the international community who comes to the country for the World Cup in 2014. A total of 12 cities all over the country have been chosen to host games for the competition. Air flight will be essential to go from city to city and MaxMilhas plans on being ready to help the international community save in their travels.
Currently the market place is not yet equipped to accept foreign payment methods such as credit cards that were not issued in Brazil. But the team is working to add this functionality before the country hosts the World Cup. One of the company co-founders, Max stated "We are working hard to make foreign payment methods available ahead of the 2014 World Cup. It's one of our biggest milestones for 2014."
The portal is gaining plenty of traction, growing their user-base an average of 50% every month. To take part in the market place, travelers use the MaxMilhas portal's flight search engine to find flights they would like to purchase. Once the flight has been identified, the traveler connects with the selling member who has spare miles, makes the purchase on the portal, and the selling party issues the flight. MaxMilhas team can also take care of flight issuing for the selling party, allowing for more convenience to the sellers.