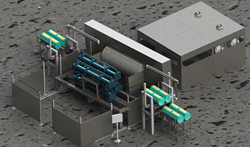 I was convinced that our goal would be to create a vessel with an infinite number of cycles.
White Pigeon, MI (PRWEB) December 16, 2013
On a trip to Shanghai in the early part of 2013, Mr. Gerald Ludwick, CEO of Fresher Evolution HPP was fascinated by the infrastructure of this magnificent city. As soon as you get off the plane you witness the magnitude of the development of China, whether it was the Shanghai Maglev train at the Pudong International Airport, the Shanghai Skyline, or the Worlds Top 10 Sky Scrapers. "It was such a mental adjustment to what I was expecting," states Mr. Ludwick, "It didn't take me long to understand the opportunity that Fresher Evolution HPP, LLC would have collaborating with Asia's largest supplier of High Pressure Processing machines and only ASME U3 Certified Manufacturer."
High Pressure Pasteurization (HPP) is a new technology that has gained rapid adoption globally to help food manufacturers and distributors extend shelf life of all natural products up to 2x – 3x. "The Evolution Series HPP machines are designed to be more innovative (Patent Pending Design), last longer, and be more cost effective to meet the increasing demands of the marketplace," states Eric Lockovitch VP of Business Development at All Natural Freshness, LLC.
At the start of the design phase for the Evolution Series HPP Machines by Fresher Evolution HPP, LLC, Mr. Adrian Staruszkiewicz P.E and Lead Engineer white boarded infinite number of cycles as a goal for the high pressure vessel component of the Evolution Series. Stated Mr. Staruszkiewicz, "after doing much research into the autofrettage process I was convinced that our goal would be to create a vessel with an infinite number of cycles, although 460,000 cycles is not infinite it definitely sets a new standard." It was the collaborative efforts of Dr. Wang Huan Yu, Director of Baotou KeFa High Pressure Technology, Co., Ltd Baotou and his team of autofrettage experts that produced a design that meets the ASME Boiler and Pressure Vessel Code, Section VIII Division 3 criteria.
About Fresher Evolution HPP, LLC
Fresher Evolution HPP is committed to design, develop, and manufacture a cost effective and innovative High Pressure Processing (HPP) machine for commercial and industrial applications. The Fresher Evolution design and manufacturing team brings together the best proven solutions by some of the leading companies in the world today in the fields of High Pressure Tubing and Fittings, Hydraulic Solutions, Controls and Automation, Intensifiers, ASME U3 Design and Compliance, ASME U3 component manufacturing. All Natural Freshness, partnered with Fresher Evolution in the design of key components including the material handlings and baskets.
About BaoTou KeFa High Pressure Technology Co., Ltd
BaoTou KeFa High Pressure Technology Co., Ltd designs, manufactures and markets high pressure equipment for food processing since 2001. KeFa is the Chinese leader in High Pressure Processing equipment technology and high pressure metal parts. KeFa has a team of professionals in food high pressure processing technology, research and development, technical and customer service, engineering, sales, and marketing. At KeFa our mission is very simple, help the food industry provide safe, high-quality, innovative food products. Our High Pressure Processing (HPP) product line includes small lab presses for testing and large commercial-scale systems with pressure vessel capacities from 3 liters up to nearly 800 liters for college, institute and food factory. Usable with water medium maximum standard operating pressure at 87,000 psi (600 MPa). Our vessel double heat-shrink sleeve and autofrettage technology assures the maximum in pressure vessel safety at lower weights, thus reducing facility costs.