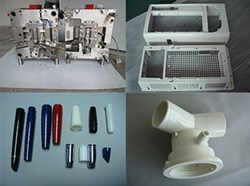 (PRWEB) December 01, 2013
Recently, Wuxi Glory Plastics, a leading China plastic mould supplier, has released its fresh selection of injection mouldings. What's more, the company has today announced great discounts on these new items. According to the CEO of the company, every customer who places an order can get a special offer, up to 31% off.
The reliable company has been specializing in the mould industry for a long time. It insists adopting strict quality control regulations and rejection standards. It is true that both its design team and direct labors very professional. This time, all new and old clients can enjoy the discounts before December, 18. 2013.
The CEO says, "We feel happy to announce our new products and launch the promotion. We want to attract more international customers by providing special offers. We feel very honored to be one of the most popular companies in the world. We are proud to state that a lot of customers have given us positive comments. What's more, many of them are still keeping in touch with us and some are even doing business with us now."
What the company offers is a huge selection of mould products. All its items are of high quality; they can be widely used in various industries. It promises to create more wonderful products for worldwide consumers.
About Wuxi Glory
Wuxi Glory engaged in developing and manufacturing custom molded plastic product in China by taking advantages of our relatively low labor costs. We have most experienced workers in China. If you're looking for product design, engineering, prototyping, and mass production, Glory plastics can always find a solution for you. For more about our products and services please visit: http://www.plastics-molding.com.