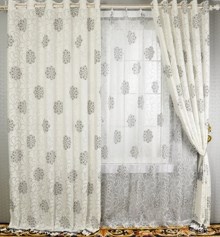 (PRWEB) December 01, 2013
Recently, Ogotobuy.com, a top brand of curtains, has added a new collection of lined voile curtains to its product category. Aside from that, the company has also launched a big promotion of these beautiful products. Now, each of them is offered at discounted rates, up to 37% off.
The company offers various kinds of curtains for customers from every part of the world: blackout curtains, country curtains, energy saving curtains, thermal curtains, modern curtains and many others. In another word, Ogotobuy.com is offering one-stop curtain solution for worldwide consumers.
The company is a distinguished curtain manufacturer and retailer in the world; it always runs in front of others. It has hundreds of high quality beautiful curtains in stock. Now, the addition of new lined voile curtains will enable more consumers to enjoy the one-stop shopping experience at Ogotobuy.com. At the company's online shop, customers don't need to spend too much time and energy on the purchase of curtains. The company is famous for its high quality products, excellent support, speedy delivery as well as competitive prices.
In addition, the newly released curtains are available in various colors, including light green, gorgeous gold, cool blues and so on. All of them are offered at reasonable prices. Custom made products are also provided at Ogotobuy.com.
About Ogotobuy.com
Ogotobuy.com is a professional manufacturer and retailer of household products. People can find various cheap curtains, comforters, pillows, sheets, and bath towels at its online store. The company assures that all its goods are designed, tailored, and made by its experienced team. The company aims to supply high quality products at affordable prices to its customers worldwide. More details at http://www.ogotobuy.com/.