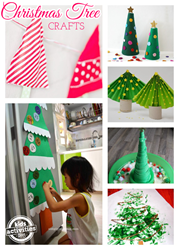 Consider family gifts to encourage togetherness.
Dallas, Texas (PRWEB) December 07, 2013
Ready to make beautiful holiday decor? Wonderful Christmas tree crafts and a laundry list of family gift ideas have been released on Kids Activities Blog. Get ready for family togetherness and fun arts and crafts with tips from seasoned moms.
The list of Christmas tree crafts is for all ages and will make beautiful Christmas decor for the holidays. They can turn into handmade presents, too. Use leftover construction paper and a few toilet rolls to make beautiful paper trees.
Another idea includes fabric Christmas tree ornaments that can be strung together to make a fabulous garland. Use felt, styrofoam and glue to make a cute tree. The sticky tree is a craft and sensory bin in one, combining art and sensory exploration.
Countdown the holidays by making a cute Christmas tree advent calendar. Pick an ornament each day in the month for a new activity. Making a tree that combines art and music is another great tip. Make the hand-print Christmas tree together with the grandparents and it will turn into a family keepsake for years to come.
Before heading out to the store to buy a variety of gifts for the family, consider giving a family gift. A thoughtful gift to the entire family can encourage family time and togetherness as well as make things simpler during shopping time.
A great family gift idea includes wrapping up a set of favorite family board games together with popcorn and a coupon for pizza. Fun board game choices are The Settlers of Catan, Clue The Classic Edition, and a Ticket to Ride.
A fun special treat maker is the Zoku Duo Quick Pop Maker. It creates yummy popsicles in just minutes. A pizza baker or a fun waffle maker are other great snack makers fun for the whole family.
Museum memberships, zoo memberships, or an amusement park season ticket make great family gifts. Other ideas include video games the whole family can play, a gift of conversation from Melissa and Doug, a cuddly blanket, and of course movie or show tickets will be enjoyed by the whole family.
For detailed instructions and to get additional fun gift ideas, check out Kids Activities Blog this week. Come get inspired to create lasting memories for years to come.
About Kids Activities Blog
Kids Activities Blog is a website created by two moms (who collectively have nine children), Rachel Miller and Holly Homer from June Cleaver Nirvana. It is their daily goal to inspire parents and teachers to play with kids. This interactive website publishes simple things to do with kids twice a day. Kids Activities Blog is a great tool for moms and teachers to find kid-friendly activities that create memories and sneak learning into the fun.