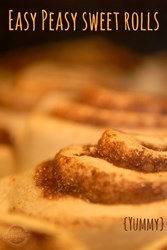 Making homemade sweet rolls can turn into a fun family tradition on Christmas day.
Dallas, Texas (PRWEB) December 04, 2013
In need for a little holiday inspiration? An easy peasy sweet roll recipe and over 101 DIY gifts for kids have been released on Kids Activities Blog. Let the holidays begin with homemade things straight from the heart.
Making yummy sweet rolls from scratch can turn into a family tradition on Christmas day. The rolls will disappear in no time. Ingredients needed to make the delicious sweet rolls are milk, butter, sugar, salt, bread flour, and active dry yeast.
Mix all ingredients together for about 10 minutes to make the dough. This part would be great with help from the kiddos. Let the dough rise. Knead again for 5 minutes. Let the dough rise again.
Roll out the dough to about 1/2 inch thickness. Spread melted butter evenly across dough. Sprinkle with about 1 cup brown sugar and about 1/2 cup cimmanon sugar. Roll the dough into a cylinder and cut about 2 inch segments. Place the segments face up on a baking sheet and bake for about 25 minutes at 350 degrees. Once the room is filled with the aroma, the rolls are about ready.
Making gifts for kids is both fun and easy to do. These gifts come straight form the heart and will create a wow factor just like an expensive gift from the store. Consider personalizing a deck of cards with 52 reasons the child is loved. Making homemade tree blocks of branches hewed from the yard will be a gift treasured for years to come.
A perfect gift for a boy is a fort kit complete with bungee cords, sheets, clamps, and flashlights. Making an indoor swing, creating an outdoor kitchen, building a balance beam, transforming two coffee cans into stilts, and making a light box for the child to explore are just a few of the ingenious ideas.
Building an instrument out of PVC pipes, creating a mop stick horse, making a geo board out of nails and a piece of wood, and assembling a DIY puzzle kit out of popsicle sticks will delight boys and girls.
For detailed instructions and to get additional great holiday tips, check out Kids Activities Blog this week. Come get inspired to create memories for years to come.
About Kids Activities Blog
Kids Activities Blog is a website created by two moms (who collectively have 9 children), Rachel Miller and Holly Homer from June Cleaver Nirvana. It is their daily goal to inspire parents and teachers to play with kids. This interactive website publishes simple things to do with kids twice a day. Kids Activities Blog is a great tool for moms and teachers to find kid-friendly activities that create memories and sneak learning into the fun.