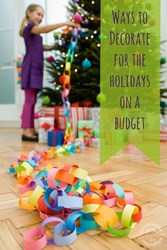 Make memories this season without burning the family budget.
Dallas, Texas (PRWEB) December 02, 2013
Holidays on a budget this year? Do not worry. Seasoned Moms are sharing inexpensive holiday decoration tips and a laundry list of silly stocking stuffers on Kids Activities Blog. Let the holiday season begin with fun memorable activities that do not burn a hole in the family budget.
Decorating the home for the holidays on a budget is fun and can save a lot of money. Among the laundry list of ideas is baking holiday ornaments. The baked holiday ornaments can be painted and make great personalized holiday gifts for family and friends. Baking Christmas ornaments can turn into a fun holiday family tradition.
Making a classic popcorn garland and building paper chains are perfect for any Christmas tree. Candy canes, bows and ribbons make festive decorations, too. Homemade bunting or hosting a holiday ornament swap are two of the newest trends among families. Making a homemade Christmas wreath out of twigs can be easily done with the instructions on Kids Activities Blog.
Stocking stuffers that are both silly and inexpensive are perfect for celebrating the holidays on a budget. The silly stocking stuffer ideas include a set of magnetic marbles that will mesmerize the kids for hours.
A funny nose pencil sharpener, a squishy ball with lots of balls inside, and a Jacob's ladder will for sure please even the silliest child on Christmas day. Crazy thinking silly putty, funny buggy tattoos, and costume glasses make great stocking stuffers, too.
One of the kids' favorite is the monkey slingshot. The monkey will make the entire family giggle and laugh on Christmas day. A hand buzzer, silly face paint sticks, and a variety of other pranks kids can do make also great stocking stuffers.
For detailed instructions and to get additional fun ideas for the holidays, check out Kids Activities Blog this week. Come get inspired to create memories this season that do not explode the family budget.
About Kids Activities Blog
Kids Activities Blog is a website created by two moms (who collectively have 9 children), Rachel Miller and Holly Homer from June Cleaver Nirvana. It is their daily goal to inspire parents and teachers to play with kids. This interactive website publishes simple things to do with kids twice a day. Kids Activities Blog is a great tool for moms and teachers to find kid-friendly activities that create memories and sneak learning into the fun.