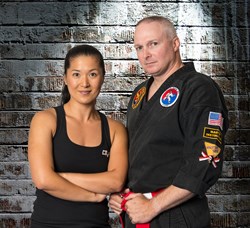 I believe partnering with TMA was a natural evolution of merging all my passions and expertise together; martial art, fitness, and coaching.
Richmond, VA (PRWEB) December 03, 2013
CO2Fit recently announced a partnership with Tactical Martial Art Academy (TMA) to offer their signature Fighting Fit sessions. The 45-minute, 8-week fitness sessions are limited to a maximum of 8 students, allowing coaches to provide personal attention to each attendant.
The Fighting Fit program is offered at three different levels, catering to different goals and needs of each participant. The starting package includes kickboxing, TRX and CO2 interval training. Participants have the option of also adding technical kickboxing and combat hapkido sessions. Each session is designed to keep track of the progress of each individual's goals.
"I believe partnering with TMA was a natural evolution of merging all my passions and expertise together; martial art, fitness, and coaching. This partnership is giving me the opportunity to develop my own niche to fill the needs of the community. I get the flexibility and freedom to test and play," stated Seo Kelleher, founder and owner of CO2Fit.
CO2Fit and TMA started their professional partnership this fall, with their launch of Fighting Fit Challenge. Initially the program started as a one-time weight-loss challenge with a cash prize for the biggest loser. Master Keith English and Kelleher soon realized that they had attracted participants who were more interested in the training itself than the weight-loss contest. The participants were having such a great time learning and training from the program they asked for the extension of the program in lieu of the cash prize.
"That really gave us the confidence to start up the Fighting Fit sessions on a regular basis. We found it filled a need of the community for those looking for a different type of training on a regular basis," continued Kelleher.
The Fighting Fit program is designed to meet the needs of every participant in the session. Those starting out on a fitness program will benefit from the small group training that combines individualized coaching with group camaraderie. For participants looking for a different challenge from their current training can also benefit by trying kickboxing and learning proper techniques from a trained martial artist and trainer. Martial artists and fighters hoping to improve their fitness level can also benefit from the trainers who understand the specific needs of the sport and have the ability to cater the workouts to those needs.
"I knew I wanted to partner with Seo as soon as I had learned that she quit her marketing job to start CO2Fit because I had seen how she coached and interacted with people over the years. After taking time to build her business first, we are now in position to work together to grow both of our businesses while sharing our knowledge and passions with the community," stated Master Keith English from TMA.
In addition to the Fighting Fit Program, CO2Fit & TMA plan to offer various programs including hardcore fighter conditioning for athletes and martial artists, seminars and workshops on nutrition, flexibility, self-defense, and much more.
CO2Fit and TMA are currently accepting registration for the Fighting Fit Program, a next 8-week session starting January 13, 2014. Tactical Martial Arts Academy is located on 9828D Midlothian Turnpike in Southside, Richmond. For more information, please visit co2fit.com or contact Seo at CO2Fit 804-349-6672.
About CO2Fit:
Established in 2012, CO2Fit is located in Richmond Virginia. Founded by Seo Kelleher, CO2Fit aims to become the main fitness & wellness resource for the RVA community. Here at CO2Fit, we acknowledge that everyone's road to fitness is different and unique. We aim to find the best workout and health routine for every client, whether it is with CO2Fit or with one of many CO2 partners who share the passion of helping others in their specialized disciplines.
For more information, please visit: co2fit.com or gotma.net.