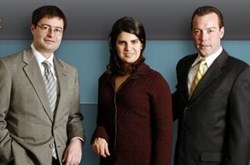 "The governmental timelines for a fiancé visa have significantly improved. We are working hard to accommodate the growing need for a K1 visa and specifically our services in this process." States Vadym Rogov, Case Manager
New York, NY (PRWEB) December 02, 2013
The United States Citizenship and Immigration Services department has announced a new timetable of 2 -3 months for case approval. Once approved, the next 2 – 4 weeks are spent waiting for the approval from the National Visa Center and then the case is sent to the U.S. Embassy. An interview for approval takes place in the following 4 – 6 weeks.
"The governmental timelines for a fiancé visa have significantly improved, which made our existing and prospective clients very happy. We are working hard to accommodate the growing need for a K1 visa and specifically our services in this process." States Vadym Rogov , Case Manager
It is important that when you want to obtain a K1 visa, you do choose a fiancé visa lawyer who understands this process. For years, the Law Offices of Joel J. Turney, LLC have been helping people from all walks of life handle this process. As an experienced K1 visa attorney, Mr. Turney has been able to maintain a high success rate for the couples who have sought out his services while offering incredibly low fees to ensure cost doesn't prevent two people who are in love from being able to spend a lifetime together.
Another reason Mr. Turney's office is a great choice as a K1 visa lawyer is the fact that the office is multilingual. This ensures that no matter what the native language of a person is, they will be provided with information they can understand so they understand how the legal process works and what to anticipate at certain points.
With the new government timelines working in favor of those applying for their K1, the faster timeline does mean that couples will have to ensure that certain documents and legal requirements are handled within the required timeframe. This means it pays to hire a professional like Joel J. Turney to help you to get the proper legal representation that you need.
About The Law Offices of Joel J. Turney, LLC.:
Since 1996, Joel J Turney has been an active attorney in New York. Having made his home in Manhattan, he has been dedicated to helping the residents of the city to get the compensation they deserve after an accident and for supporting those who need assistance in spending a lifetime with their true love.
For further information, please visit http://www.fianceeimmigrationlawyer.com/.