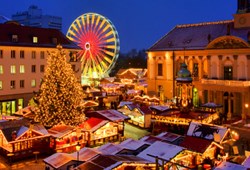 Happy Holidays from FlyBusinessCheap.com team.
San Francisco, CA (PRWEB) December 02, 2013
Ask anyone who has been, and they will tell you just how truly magical it is to travel overseas during the holiday season, experience new cultures and traditions, and ultimately enjoy the last night of the year in one of Europe's many beautiful cities. During the holiday season Europe is flooded with celebrations and festivals, and to many, it is the most enjoyable time of the year to visit. Tourists who experience Europe during this time of year have the privilege of intimately enjoying a city's customs and traditions; there are more festivals and events happening during this time than any other part of the year for most regions. The luxury flight specialists at FlyBusinessCheap.com are here to do more than just offer the lowest international luxury fares in the industry, they are also here to assist everyone in deciding how and where to plan what could be the vacation of a lifetime. Here are some of Europe's most popular destinations during the holidays and upcoming 2014 New Year's celebrations:
Has Paris ever been the wrong choice for any occasion? It would be a very safe bet to assume that a capital who's affectionately nicknamed "the city of lights" can provide ideal provisions for a grand end of the year adventure. It only takes a walk to the famed Champs-Elysees avenue to be able to join the New Year's celebration and watch, along with thousands of other onlookers, the Eiffel Tower as it starts a beautiful lightshow at the stroke of midnight. "St. Sylvestre," as they call New Year's in France, for most, lasts the entirety of January; it is not uncommon to notice people still wishing each other a happy new year well into the last weeks of January.
As one of the most visited holiday destinations in the world for celebrating New Year's, it would be monumentally impossible to miss out on any exciting events. Chances are more likely than not for a tourist to wander into a party just by chance as a result of taking a walk down a busy street. It is also well known that the New Year's Eve fireworks can be seen from just about any location that has a vantage of the London Eye. The city's world famous New Year's Day Parade features over 10,000 participants from 20 different countries performing various shows; the performers march to drumbeats for a 2.2 mile trek that starts at the Ritz Hotel and ends at the Big Ben.
Zurich, Switzerland is a model setting for anyone looking to end the year surrounded by a stream of calendar worthy imagery. The city is absolutely breathtaking; it is the combination of natural wonders such as lakes and mountain peeks in conjunction with endlessly beautiful architecture that sets this place apart from many others. Just about everyone in town, in one way or another, attends the illustrious "New Year's Eve Magic," a festival full of live music, food, entertainment, and a finale of fireworks over Lake Zurich which can be seen from almost anywhere in town. Visiting at this time of year virtually guarantees the perfect amount of docile snowfall to cap off the last detail of this fairy-tale image vacation spot.
Known for hosting one of the largest New Year's Eve celebrations in Europe, Berlin is a no brainer choice for anyone looking to up their excitement factor. As many as one million people take to the streets of the city in complete disregard of the frequently harsh weather in order to celebrate the new forthcoming year. The one million or so people on the streets are treated to live music, top of the line light shows, and more types of entertainment than can be listed. Upon the arrival of the New Year the gigantic street gathering drops a giant ball, similar to the way it is done in Times Square, New York.
What could make for a more memorable end of the year vacation than one spent in the capital of Mother Russia? There is really no substitute for the eye candy that can be experienced walking amidst the numerous picturesque looking buildings. It only takes a quick youtube search for "Moscow, Red Square, New Year's" for anyone to experience their jaw drop in sheer disbelief of what they are seeing; the visuals resemble more of something out of a Disney movie than anything close to real life. Outside of the family friendly atmosphere of Red Square, there are endless amounts of fancy bars and clubs that compete to outdo one another each year, not to mention over 5,000 different eateries encompassing the metropolitan area. Look no further than Moscow for adventures of all degrees.
Start booking the adventures of a lifetime with the help of the luxury flight specialists at FlyBusinessCheap.com
FlyBusinessCheap.com absolutely guarantees the lowest fares on the market for international first & business class flights and work exclusively with the world's finest airline companies.
Give them a call and be routed directly to one of 100+ luxury flight specialists available in any one of three office locations in San Francisco, New York, or Chicago.
Look no further than FlyBusinessCheap.com for the easiest, fastest, no hassles discount luxury flights.