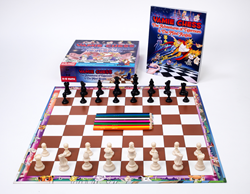 Teaching chess and math in a playful manner, embedding both in a fantasy story, is a great approach. The outcome is a feel-good-book for children and their parents with great pedagogical value. I recommend it highly. - Professor Hesse, Ph.D., Harvard
Las Vegas, NV (PRWEB) December 01, 2013
Yamie Chess, the K-8 math learning aid launching on 16th February 2014 at New York Toy Fair, that won the Canada International Film Festival, the Platinum Reel Award at the Nevada International Film Festival, Best Animation at Stella Artois's Big Apple Film Festival in New York City, and won official selection to Johns Hopkins University, today announces that three internationally respected mathematics Ph.D.s from America's top universities are publicly backing the company's first learning aid for children's math education.
Joined in recommending Yamie Chess by the celebrated American International Master of chess, IM Jeremy Silman who helped to create the Harry Potter chess game (Wizard's Chess) with Harry, Ron and Hermione, in Harry Potter and the Sorcerer's Stone (Warner Bros. Pictures, 2001); Harvard University's Professor Christian Hermann Hesse, Ph.D., whose work as a classical chess expert has been endorsed by former undisputed World Chess Champions Grandmaster Vladimir Kramnik and Grandmaster Viswanathan Anand; MIT's Professor Michael Ching, Ph.D., a post-graduate honors mathematician and Kennedy Scholar from Trinity College, University of Cambridge; and the University of Chicago's Professor Ashley Reiter Ahlin, Ph.D. have today all published their in-depth educational recommendations of Yamie Chess: The Adventures of Tigermore and the Mind Angels, on Yamie Chess Ltd's official company website, strongly recommending the Nevada based company's K-8 math product line as a valuable tool for K-8 math education.
Yamie Chess, which is the result of a collaborative effort between a group of U.S. math educators, scientists and engineers from MIT, Caltech, Stanford, Vanderbilt, Columbia and the University of Arizona, and Yamie Chess Ltd's principal educator, 2-time USA chess champion and Women's Grandmaster Jennifer Shahade, who is an international chess icon and was recognized by the Smithsonian Institution as the strongest American-born woman chess player of all time, will launch at the American International Toy Fair in New York City on 16th February 2014.
Manufactured in America's heartland with EPI Printers, Inc. in Battle Creek, Michigan, where the auspicious math learning aid will be warehoused and fulfilled to schools, teachers and parents across the country by UPS, Yamie Chess is unequivocally backed by award-winning mathematics Ph.D.s and international chess experts, who have collectively been published in many dozens of prestigious, refereed international and U.S. math journals, and who have conducted top research for the United States Government's National Science Foundation.
The world renowned chess author, International Master Jeremy Silman, who has published his own in-depth analysis of Yamie Chess on his professional website, JeremySilman.com, remarked: "I highly recommend Yamie Chess: The Adventures of Tigermore & The Mind Angels. A beautifully drawn, deeply conceived, emotionally compelling fantasy adventure....your newfound knowledge of chess will seamlessly blend into math lessons, physics, and moral imperatives. When a child learns how to play chess, adds a lot to his or her science education, and has a wonderful time walking through a rich fantasy world, you can't go wrong!"
Another of Yamie Chess's math professionals and contributors to the Yamie Chess math learning aid project is Vanderbilt University math instructor, Patrick Jones, who is a dedicated YouTube math educator. Mr Jones' math teaching video channel, PatrickJMT on YouTube, recently passed the 77 million views milestone. Mr Jones commented: "Yamie Chess provides an interesting weaving of analytical skills through chess instruction and math puzzles all the while being set in a fantastical universe where a child can use his or her imagination to see the world in different ways by uncovering new and interesting ideas."
Made in Michigan, USA and launching at the American International Toy Fair 2014 on 16th February 2014 (Booth #5954), Yamie Chess offers parents and teachers looking for ways to achieve better learning outcomes in their son or daughter's math education, with a classic chess-based math product that has been endorsed by Harvard and MIT mathematics Ph.D.s.
Yamie Chess: The Adventures of Tigermore and the Mind Angels, is aligned to the National Council of Teachers of Mathematics Curriculum Focal Points, one of the math documents that was used to develop the Common Core State Standards.
Priced affordably for American middle class family budgets, meeting all U.S. toy and child safety standards, Yamie Chess will be available to buy from yamiechess.com after April 2014. Further details are available at the Yamie Chess official website that launched today.
Designed by math educators and engineers, Yamie Chess is on an educational mission to make the class of 2025 the most employable tech workers to ever graduate the U.S. public school system, with a classic chess based learning approach that will bolster math and science education in K-8 schools, and put America firmly where it belongs - leading the class and top of the rankings internationally for math and science education.
About Yamie Chess
Made in America, Yamie Chess is a K-8 educational learning aid for scholastic STEM education (Science, Technology, Engineering and Mathematics learning.)
Yamie Chess Ltd is based in Las Vegas, Nevada and is launching its first educational math learning aid products for supplementary school and home STEM learning, at the American International Toy Fair 2014 (Booth #5954) and the NSSEA Ed Expo in Dallas, Texas in March 2014. (Booth #5248)
Yamie Chess Ltd has an award-winning professional animation studios inside the company which in 2013, won over 50+ major U.S. and international film festival official selections and awards, including Coca-Cola's Beverly Hills Film Festival, Bank of America Merill Lynch's Gasparilla International Film Festival in Tampa, the Aloha Accolade in Animation at the Honolulu International Film Festival, the 22nd Arizona International Film Festival sponsored by the Academy of Motion Pictures Art and Sciences, the University of Arizona and Comcast, and Yamie Chess was one of just four children's productions to win selection to Wells Fargo, American Express, Verizon and Chrysler's Utah Arts Festival in Salt Lake City.
Yamie Chess Animation Studios (YCAS) brings to life the magical children's science fiction and fantasy adventures of Tigermore and the Mind Angels for K-8 math education.
Yamie Chess' manufacturing partners, EPI Printers, Inc., based in Battle Creek, Michigan are a fifty year-old ISO 9001:2008 certified board game manufacturer established in 1959, who are the 2013 Sappi North American Printers of the Year.
Yamie Chess benefits from 100% US craftsmanship, 100% US labor, and 98% of its parts being sourced from within the United States. In addition, Yamie Chess is made from 40% recycled materials, and vegetable based paints, making the product an ecologically, environmentally friendly "green product".
Yamie Chess Ltd is an accredited member of the Toy Industry Association, the National School Supply and Equipment Association (NSSEA), the American Toy Speciality Retailing Association (ASTRA) and U.S. manufacturing group, American Made Matters.