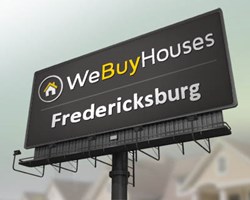 Based on our market research, we believe many Fredericksburg area residents are seeking a hassle-free way to sell their homes
Fredericksburg, Virginia (PRWEB) December 02, 2013
Home Investors of America, Inc. has become an official We Buy Houses licensee. Home Investors of America, Inc. expects to buy 100 to 200 homes in the Fredericksburg area in 2014
http://www.WeBuyHouses.com/va/fredericksburg, in affiliation with Home Investors of America, Inc., a seasoned Fredericksburg Virginia residential real estate house buying company, that has been helping home owners quickly sell there homes for 13 years. They are very pleased and proud to announce the opening of their new Fredericksburg office. The company buys homes directly from homeowners, then renovates and prepares the home for resale.
We Buy Houses selected Fredericksburg for a new office because of the proximity to Washington DC and Richmond Virginia. Fredericksburg is considered a bedroom community of the DC-metropolitan area and has one of the fastest grow­ing economies in the US and a high volume of real estate sales.
"We are delighted to bring our innovative approach to the vibrant Fredericksburg real estate market. We expect to buy between 100 to 200 properties in the Fredericksburg area within the next year," commented Kristopher Angstadt, Founder and CEO of Home Investors of America, Inc. "Based on our market research, we believe many Fredericksburg residents are seeking a hassle-free way to sell their homes without paying real estate commissions and avoiding the other hassles that come along with the home selling process" He added, "By all indications, our research was correct. Our initial results have exceeded our expectations. Our phones have been ringing off the hook and we've purchased several homes within the first 3 weeks of opening our new location. We Buy Houses in the City of Fredericksburg, Stafford County, Spotsylvania County and surrounding counties. At this rate we may well exceed our volume expectations."
Home sellers calling We Buy Houses Fredericksburg will receive an offer within one day at a fair, competitive, agreed upon price. We Buy Houses process eliminates the middleman, allowing customers to avoid paying a real estate commission. Before reselling a home to a potential buyer, Home Investors of America, Inc. brings in their team of construction experts to provide all of the renovations necessary for preparing the home to like-new condition prior to resale.
About Home Investors of America, Inc.
Home Investors of America is redefining the residential real estate industry, offering customers a hassle-free, guaranteed sale without making any repairs or paying a real estate commission. Home Investors of America buys each property "as is" and completely updates the home, therefore taking the burden of home improvement off the seller. This one stop service allows customers to sell their home quickly to a fair and trusted company. The company is headquartered in Fredericksburg, Virginia and can be reached at 540-373-6883 and on the web at http://www.WeBuyHouses.com/va/fredericksburg.
The Founder and CEO, Kristopher Angstadt, started Home Investors of America, Inc. in 2001 and since the founding, the company has helped out many homeowners. He was born and raised in Fredericksburg, Virginia and enjoys spending time with his wife Alicia, two daughters and son. He also enjoys playing golf and any activity outdoors. Kristopher has been involved in upwards of 1,000+ home purchases. He understands that each and every person and real estate transaction is different and he strives to provide the personal attention, trust and dependability that every homeowner deserves. With his knowledge and experience of real estate and the selling process, he will work to ensure that the sales experience is easy and hassle free while focusing on providing the best customer service. If you are interested in a friendly, honest approach in selling or getting an offer on your home contact Kristopher at Kris(at)WeBuyHouses(dot)com or at (540) 373-6883 They also have a 24hr. Seller Hotline at (540) 288-4004 or Toll Free at (866) 353-1717.