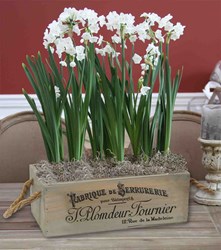 These Cyber Monday deals caught my attention because they are beautiful and practical.
Philadelphia, PA (PRWEB) December 02, 2013
Cyber Monday is the new official kickoff to the holiday shopping season, and with $2.27 billion in projected sales, December 2nd promises to be the biggest shopping day of the year.
To help shoppers discover the best deals, Garden Media Group has uncovered Cyber Monday steals for gardeners that are guaranteed to impress any bargain hunter and green thumb.
"These Cyber Monday deals caught my attention because they are beautiful and practical," says Katie Dubow, creative director at the horticultural marketing firm. "From flower bulbs to a counter top composter, it's nice to see specials on products other than electronics and toys."
Free Gift with Every Purchase of Flower Bulbs: Online flower bulb store, Longfield Gardens, is offering five free paperwhite bulbs with every order. "Paperwhites are hands down the easiest bulb to force indoors," says Jennifer Pfau, creative director at Longfield Gardens. "They make spectacular hostess or thank you gifts and bloom for weeks." Save even more with free shipping on orders over $50.
Turn Kitchen Scraps into Landscapes with The Green Cycler: A great gift for gardeners, kids, and backyard chicken farmers, the Green Cycler counter top composter is offering 20% off and free shipping for Cyber Monday only. A compost bin on steroids, the Green Cycler shreds kitchen scraps into small pieces, turning them into precious 'black gold' to feed shrubs, trees and garden beds. Get a jumpstart on spring and start composting now.
"I particularly love Cyber Monday shopping," explains Dubow, "I get to enjoy the Black Friday bargains without the lines, the crowded parking lots, and the massive amounts of people."
Take advantage of these Cyber Monday specials and save a lot of green on these deals.
Garden Media specializes in home and garden, horticulture, outdoor living, lawn and landscape industries, offering innovative PR campaigns designed to secure top media placements and partnerships. For more information visit http://www.gardenmediagroup.com or http://grow.gardenmediagroup.com/blog.