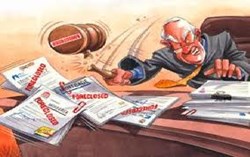 Automatic foreclosure approvals without any review.
Reno, NV (PRWEB) December 04, 2013
The Nevada Supreme Court issued a decision (Case No. 60945) that records of its Foreclosure Mediation Program are to be kept secret from the public. The decision came in a case filed by Civil Rights for Seniors, a Nevada non-profit corporation that sought access to the Supreme Court's records under Nevada's Public Records Act.
The organization believes the records contain proof that thousands of Nevada homeowners, including many senior citizens, have lost their homes in wrongful bank foreclosures. "This decision now sets the stage for other states to deny citizens access to similar documents," said attorney Keith Tierney, a director of the nonprofit.
The Nevada legislature created the Foreclosure Mediation Program to help keep Nevadans in their homes by giving homeowners the right to meet face-to-face with their lenders to find workable alternatives to foreclosure. From its enactment in 2009, the Program has collected millions of dollars from homeowner default notice fees.The Supreme Court now shares these fees.
The Court cited "confidentiality" in its decision, but the group emphasized that it did not seek access to any confidential information. "All of the records in question relate to the Court's administration of the program and how its decisions permitted bank foreclosures to proceed," said Tierney.
The Court's decision in this case contradicts a decision it issued only 14 days later in PERS vs. Reno Newspapers, Inc., (Case No. 60129). In the PERS case, the Court held that the Reno Gazette-Journal, a local newspaper, has the right to inspect public employee retirement files under the Public Records Act, citing the public's right to know.
"The Court's decision is outrageous!" said Civil Rights for Seniors founder and president Alice Thomas. The 82-year-old Thomas said, "I am not surprised, but since when can judges sit in judgment of themselves and decide their own cases?"
"The fact the Court is denying access to its records makes us suspicious it is trying to shield their program from public scrutiny exposing its failures," said Philip A. Olsen, an attorney who also provides legal counsel to the nonprofit.
Civil Rights for Seniors works to ensure that seniors and other Nevada residents receive fair treatment under the law.