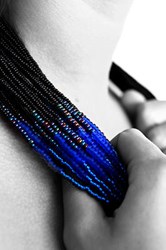 With these collections, it is possible to look good and do good at the same time this holiday season.
Boston, MA (PRWEB) December 02, 2013
Thanda Zulu is thrilled to introduce its Fall 2013 Essentials collection for gorgeous, everyday-wear, its Fall 2013 Glamour evening-wear collection, and its bright, cheerful holiday ornaments and treats collection, all available for purchase at thandazulu.org. With these collections, it is possible to look good and do good at the same time this holiday season.
The Fall 2013 Essentials collection celebrates the season's rich, dark colors, offset with the rare and treasured bursts of brightness that make winter a warm season. Against innumerable black beads, the shimmer and shine of violet, peach, pearl, worn gold, and mint shapes create striking contrasts, dimension, and impact. The Fall 2013 Essentials collection join color-blocking trends with Zulu traditions to bold, modern success. Neutrals are eye-catching and brights are quietly intriguing, making these bracelets and necklaces easy to dress up or down and a welcome addition to any winter wardrobe.
The Fall 2013 Glamour collection is defined by the edge and bite of its colors—bright black and electric pink, cobalt, aqua, and others. But these irresistibly bold monochrome and blocked designs are rendered in strands of delicate, rounded glass beads, giving these necklaces and bracelets a wonderful, sensual softness. The pieces in the Fall 2013 Glamour collection are perfect for the holiday party season, especially since each purchase at Thanda Zulu supports South African women and children in need.
Thanda Zulu's ornaments are unique holiday decorations that add color and joy to the home. Thanda Zulu offers a traditional globe shape dressed in modern Zulu patterns, as well as animal, star, and heart-shaped ornaments. All of these make excellent hostess gifts and stocking stuffers. Looking for something to put under the tree instead of on it? There is truly a Thanda Zulu keychain for everyone. From flip-flops to flowers, guitars to geckos, these charming wire creations are perfect for small Hanukah gifts, stocking stuffers, and holiday party favors.
Made with high-quality hardware and glass beads, all Thanda Zulu jewelry and crafts are handmade by Zulu artisans from South Africa's renowned beading families. Their art generates crucial income and the opportunity to pass their traditional skills on to future generations, protecting and promoting African cultural integrity. Thanda Zulu jewelry blends these traditional skills with contemporary styles, revealing the extraordinary versatility, beauty and potential of the rich Zulu beading heritage.
Proceeds from Thanda Zulu sales also support Thanda, a groundbreaking education and community development nonprofit serving children in need in rural South Africa. At Thanda, children are empowered to transcend the cycle of chronic poverty to reach the bright futures they deserve. Learn more about Thanda at thanda.org.
For more information about Thanda Zulu's Fall 2013 Essentials, Fall 2013 Glamour, or Holiday collections, please contact Samantha Larkan at larkan.sam(at)gmail(dot)com, 88 Oak Street Wellesley, MA, 02482, (970) 216-4877, info(at)thandazulu(dot)org, thandazulu.org.