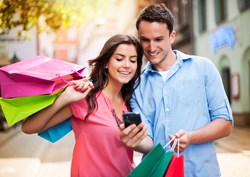 Save barcoded shopping list on mobile and review on desktop.
Sydney, Australia (PRWEB) December 02, 2013
Crowdbuy.info via AAP Medianet: The new android app will allow shoppers to scan barcodes of items and find cheaper prices online.
Crowdbuy.info today announced that it will release its first Android app, available for download in the Google Play store, on December 1, 2013. The app, which is a 100% free service, will be available to shoppers in Australia, United States, United Kingdom, France and Germany. The Crowdbuy.info app will be compatible with phones, phablets and tablets running Android operating system 2.2 or higher. An iPhone and iPad version will be announced in the following weeks.
"We know what a hassle it is to juggle your devices while you are out shopping and very often we have to browse many sites to check whether an item is cheaper (or more expensive online. Crowdbuy.info gives shoppers the edge since it searches 1000s of online shops in your region by barcode. It also allows you to save your items so that you can review your findings when you get back home to a full size desktop PC," said Crowdbuy.info Founder and CTO, Mike Duffy. "We decided that we would get the application out there in time for the holiday season. There has been a lot of buzz around this so we are planning to announce our iPhone application in the coming weeks."
Crowdbuy.info's Android application, paired with their Web Site coupled with social sharing and shopping list functionality, makes shopping simple, efficient and user friendly. Crowdbuy.info's technology works on 'smart' devices from tablets to phones to laptop computers. In addition to the Android app, Crowdbuy.info plans to support iPad, iPhone, iPod Touch, Chrome, Internet Explorer, Firefox, Safari, Opera - basically any device that has a web browser and an internet connection.
Downloading the app is free and they currently support Facebook for its account login and shopping list functions. There will be other providers added based on demand. Stay tuned for more exciting developments at our website http://www.crowdbuy.info.