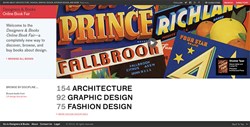 "Your heart is about to go pitter patter if you are a lover of design books." - Tina Roth Eisenberg of swissmiss.com
New York, NY (PRWEB) December 03, 2013
Last October in New York, Designers & Books launched the Designers & Books Fair—a weekend-long celebration of the design book community. "There are so many events in the design world and so many books bought and sold on design. There's an art book fair, but no design book fair. So we started talking to publishers about whether it was a good idea, and they said, 'Why didn't someone think of this before?'" Founder Steve Kroeter said to The New York Times.
The popularity of the "offline" fair suggested the idea for an online offshoot.
The Designers & Books Online Book Fair provides a first-ever experience that combines the serendipity and spontaneity of browsing in a bookstore with the refined search, sort, and filter capabilities of the Internet. The combination provides a helpful, enjoyable, and well-designed way to discover design books on the Web.
Included are books about architecture, fashion, graphic design, interior design, landscape design, product and industrial design, urban design—and all related design fields: 14 subject areas in total.
The Online Designers & Books Fair includes specially created video trailers for selected new titles as well as themed lists of books (many more to come) designed to provide entertaining as well as enlightening new ways to find design books.
You can watch a video of Steven Heller and Louise Fili talking about their new book, Shadow Type, and you will soon be able to view videos for the new edition of Stefan Sagmeister's book, Things in my life I have learned so far, as well as Debbie Millman's book, self portrait as your traitor.
You can also discover titles according to color (red covers, blue covers, black covers, white covers) or by specific designer (Charles and Ray Eames) or design topic (Helvetica typface) or a variety of other ways.
Included in the Fair are forthcoming, recently released, and also backlist titles.
The publishers currently participating are:
Abrams Books
AMMO Books
Applied Research + Design Books
DAAB
Gestalten
GOFF Books
Lars Müller Publishers
Laurence King Publishing
The MIT Press
ORO Editions
Paintbox Press
Pointed Leaf Press
Prestel Publishing
Princeton Architectural Press
Yale University Press
Purchases are made directly from each publisher, with different publishers offering different discounts:
AMMO Books: 30% off
Applied Research + Design: 50% off
DAAB: 30% off
Goff Books: 50% off
The MIT Press: 30% off
ORO Editions: 50% off
Yale University Press 25% off
New books and publishers will constantly be added to the site.
The Designers & Books Online Book Fair is a project of Designers & Books and was designed and programmed by Studio Kudos.
Contact:
Steven W. Kroeter
Editor in Chief
Designers & Books
80 East 11th Street
Suite 538
NY NY 10003
212-777-9080
kroeter(at)designersandbooks(dot)com