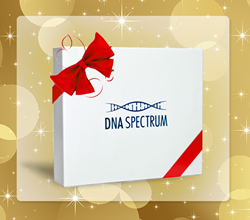 "Your genome changes throughout your lifetime. As scientific breakthroughs continue and new therapies are discovered, it will be crucial to have a copy of your DNA at the youngest possible age.
Phoenix, AZ (PRWEB) December 03, 2013
Consumer demand for DNA testing with leading companies such as Phoenix-based DNA Spectrum continue to soar with DNA storage such as myDNA Safe as an important added ingredient to the genetics services mix.
Inquisitive individuals who want to know where and within whom their DNA roamed in the last 10,000 to 20,000 years; concerned family members interested in identifying family health patterns; and expectant parents who want to assess health risks for their new babies are just some of the consumer groups purchasing DNA tests in droves. In fact, spending annually on DNA testing is projected to reach between $15-25 billion soon.
But now, landing squarely on DNA business' radar screens, is the storage of genomes (the full set of chromosomes) for future preservation. Nowhere is this emerging trend more evident than with Phoenix-based DNA Spectrum, a cutting-edge DNA genetic science company that has successfully been offering DNA testing and reporting and is now pioneering a breakthrough with DNA storage.
After spending many years seeking out the best-accredited testing facilities, DNA Spectrum has secured more than 2,000 laboratory partnerships throughout the United States. Its DNA sequencing technology is now so fast and cheap that an entire human genome can be consolidated, tested and analyzed with a comprehensive ancestry report delivered within 12 days for as little as $99. In addition, DNA Spectrum is now offering myDNA Safe, a new state-of-the-art DNA storage service available at a fraction of the cost of previous DNA storage options with storage plans starting as low as $2 per month.
"DNA storage has only recently become a desirable and indispensable service in the eyes of consumers," says Paul Yates, CEO, DNA Spectrum. "American consumers are demanding more and more to be placed in charge not only of their health decisions but to have actual control of their unique DNA in the form of a reference specimen for the future."
"Without the availability of our genetic storage, the answers hidden inside our DNA are lost at the end of life," adds Yates. "myDNA Safe preserves that unique genetic code for designated family members and may hold answers for generations to come. It's a kind of insurance policy that captures and 'files' a valid biological specimen against any new contingencies that may arise in this fast-paced, constantly changing arena. Your DNA begins to disintegrate when you die, and unless you preserve it scientifically and securely, there will soon be no trace of the unique code of life that identifies you during your lifetime."
Access to stored DNA samples is invaluable in certain emergencies. Forensic DNA matching can be completed in just a few hours and is often used in cases involving missing children and adults. Military families who want to easily identify their loved ones who sacrificed their lives on the battlefield and preserve their memories can also make use of DNA storage.
"Storing DNA is also helpful in establishing a family's medical history," says Yates. "Most diseases run in families. The more DNA specimens you have from family members, the more knowledge you accumulate in managing your own health. Answers to battling cancer, eradicating genetic disorders and delaying age-related diseases are contained within DNA. Individuals with secure copies of their genome will be ready to take advantage of technological advances and new gene therapies."
Unless you have your DNA in a stable, long-term medium with ready access, you may not be able to 'play' it on the instrumentation of the future.
For more information, go to http://www.dnaspectrum.com or call (800) 471-6164.
Special Holiday Season 2013 Promotion for myDNA Safe
Take an additional 10% off on all myDNA Safe's packages (1, 2, 5 or 10 year) when purchased this holiday season prior to December 25, 2013. Use coupon code: GIFT2013
About DNA Spectrum
DNA Spectrum has created an affordable DNA storage service—myDNA Safe—that is significantly changing the lives of Americans. Through years of research and design, DNA Spectrum has leveraged cutting-edge technology to meet the discerning demands of genetic testing clients today. In the future, with DNA Spectrum as a partner, individuals will be at the forefront of genetic breakthroughs for generations to come.