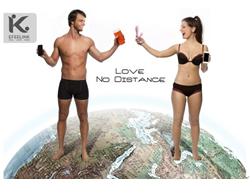 Now, distance doesn't matter for the long-distance love.
(PRWEB) December 02, 2013
Long distance love is a double-edged sword. In a long distance relationship, interaction over the phone can become dull. A UK company, EFEELINK, has recently invented a set of toys that allows long distance love making with the help of smartphones.
Two lovers at a long distance may miss each other, buy they can't kiss and hug. They can only call and say: "Darling, I really miss you!"
What if those people could feel each other and touch each other when they miss each other so much? What if people can enjoy the intimate space with their lovers, long distance?
Given these circumstances, EFEELINK would like to share a little gift that may help people who are separated from their lovers, and hope that there is no regret between them.
EFEELINK products have been divided into two parts: one part is for men, a male masturbation cup, and the other part is for women, a smart vibrator. They look similar to the traditional sex toys, but they are different from the traditional ones because a human motion sensor is inside the device. When connected to an APP, the cup can send orders out (such as vibration, insertion and so on); the vibrator will get the signals and reflect that in the women's body. This means that no matter how far people are away from their lovers, they can make love via an EFEELINK product.
"It's fantastic! I loved it! It's just like my boyfriend is beside me. Distance really doesn't matter now!" said Lina, a volunteer user of EFEELINK, who lives in London, whose boyfriend Tony lives in New York.
High technology has been highly involved in people's daily life. Technology, then, must influence human sexual behavior. To a certain extent, science and technology expands individual limitations, and in an unlimited extension of space, more possibilities will come out and come true.
About EFEELINK
EFEELINK is devoted to designing and creating dual-enjoyment of visuality and sensuality beyond thought based on modern science and technology. Its products are divided into three classes: for male, for female, and for remote interactive section. They are the world's first pleasure objects based on high-tech electron, internet and smart phone. All products' aesthetic exterior and the most body-friendly of designs which contains fashion connotation and exquisite workmanship produce a pleasant visuality and sensuality even better than real feelings between partners. Visit http://www.efeelink.com/ for more details.
Follow EFEELINK at:
FACEBOOK: http://www.facebook.com/efeelink
TWITTER: http://twitter.com/efeelink