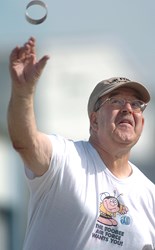 They said it would never fly and it has been flying for over 42 years - All AmeriCAN Toy
Sussex, WI (PRWEB) December 02, 2013
Greg Stromberg, Founder of Toobee International, an all American toy manufacturer, has a mission and is counting on this Cyber Monday to help him save even more children's lives in developing countries.
The all-American Manufactured Made all aluminum 100% recyclable green toy called the Toobee, better known as an annular airfoil was developed by 2 aeronautical engineers over 40 years ago and believe it or not, it is still flying. This product is made from a virgin aluminum beverage can and aluminum end with the same precision engineering as a Boeing 737, except it costs a lot less, weighs a mere 7 grams and is much smaller. It does fly with the same aerodynamic (Bernoulli's Law) principles.
Greg Stromberg the owner of the Patented and copyrighted Toobee with its own TAF Toobee AirForce jokes about this as being the "longest going unknown fad in the world". He says it has literally been flying under the radar. People who played with these toys 42 years ago are coming back and asking if they can still buy one, now that they have their own kids.
Greg takes 100% of all his the profits from the sale of Toobees and plows them right back into his nonprofit 501C3 charity called http://www.cannedwater4kidsorg whose mission and purpose is to ensure all children in the world have clean drinking water.
About Toobee International
Toobee International is the manufacturer of Toobee(R) the Amazing Flying Can. The company Is based near Milwaukee, Wisconsin. For more information, visit the company's website at: http://www.toobee.com or to see a short video visit: http://www.toobee.com/movie3.html
About CannedWater4Kids
CannedWater4Kids is a 501c3 nonprofit charity based in Sussex, WI. The organization's mission is to bring clean, safe water to the children of the world who are currently without. CW4K funds it's initiatives with cash donations and sales of their premium spring water product. 95 cents of every dollar collected goes to support clean water programs. Recent efforts include sending water to Japan and Haiti to aid in their Post-Earthquake Water Shortage, assisting the University of Wisconsin – Milwaukee's Engineers without Borders in bringing water purification solutions to the highlands of Guatemala, support of a well/water tank project in Zambia, Africa, and Bio Sand Filters project in Tanzania. To learn more, visit http://www.cannedwater4kids.org