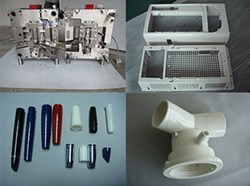 (PRWEB) December 02, 2013
Recently, Wuxi Glory Plastics, a famous Chinese plastic mold company, has announced its new range of plastic wheels. Additionally, the company is now offering big discounts on all these new items.
The CEO of the company says, "We are happy to release the new products. All these plastic wheels are made from durable materials. I believe that the special offer will provide a lot of benifits for clients worldwide. Those who want to buy cheap, wonderful wheels can visit our online shop now."
Wuxi Glory Plastics is a reliable company that focuses on the designing and manufacturing of high end products. All its items are provided at affordable prices. The company's products are popular among the individuals as well as the major companies in the world; they are famous for good shapes and delicate craftsmanship.
Last but not least, the company is also offering similar discounts on its other products like caps, auto parts, EIFS mechanical fasteners, EIFS PB washers, plastic balls, handles and so forth. At the company's website, customers do not need to pay too much for high quality items. That is why a lot of its products have won warm praise from customers worldwide.
About Wuxi Glory
Founded in 1995, Wuxi Glory is now one of the leaders in China injection molding and blow molding industry. The company insists on employing the experienced workers and professional designers. If you're looking for products related to design, engineering, prototyping, and mass production, Glory Plastics can always find a solution for you. For more about its products and services, please visit: http://www.plastics-molding.com.