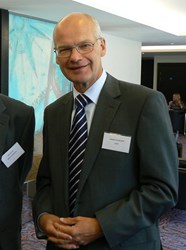 Mr. Zvaigzne retires from the AEMT in Dec 2013 leaving a position open for a Senior Electrical Engineering Consultant.
York, N Yorks (PRWEB UK) 3 December 2013
Today it was announced that Mr. Eriks Zvaigzne, of the Association of Electrical and Mechanical Trades (AEMT) will be retiring at the end of this year, leaving the position open for a replacement senior electrical engineering consultant.
Before joining the AEMT in 2008, Mr. Zvaigzne had been Technical and Sales Support Manager at Brook Crompton, starting his career at Crompton Parkinson in Guiseley as a design engineer after leaving Bradford University.
Mr. Zvaigzne has been the AEMT's authority on the servicing of electric motors and the repair of hazardous area equipment, giving presentations at Hazardex and The Motor Drive Systems conferences and directly through the members' helpline. He has supported the associations' members in their understanding of Hazardous Area protection standards through international training courses held throughout South East Asia, The Gulf, as well as in the UK. This has also entailed representing members of the AEMT on a number of standards committees feeding into the IEC TC2 for Rotating Machinery and also into TC 31 for Equipment used in Explosive Atmospheres and IECEx for the Certification of Certified Service Facilities and Personal Competency.
Tim Marks, secretary of the AEMT says, "The association has come on in leaps and bounds since Eriks has been with us over a very pivotal period. It has been a great pleasure working alongside him throughout the last 5 years, and we all wish him a very happy retirement."
ABOUT THE AEMT
The Association of Electrical and Mechanical Trades (AEMT) represents leading companies internationally, who specialise in rotating electric machines. Since 1945 the association has represented its members on standards committees and been at the forefront of developing repair standards, putting together codes of practice, and promoting environmental repair and maintenance.
In the last 5 years, the AEMT has grown increasingly busy, helped by the growing acceptance by industry of the IECEx Certified Service Facilities Scheme and the training required to come up to the audit standards. In his area the AEMT is world class having trained around 45% of all IECEx Certified Service Facilities internationally.