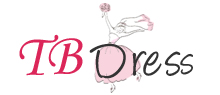 (PRWEB) December 02, 2013
Trendy women's clothing maker TBdress.com has recently announced its wedding dress sale, and offered great discounts on all its wedding outfits. According to the CEO of the company, the special offered is launched to show appreciation to its customers worldwide.
"We have received a lot of customer reviews on our designs and services, and most of them are positive. The customers not only give reviews on our products and services, but also make constructive suggestions for our future designs," the CEO indicates, "We have had so many loyal clients over the last few years. Now, it's time to offer them the best designs and products at greatly discounted prices. People who need custom designs can contact us anytime!"
TBdress.com is a famous online dress store that offers a lot of award-winning wedding dresses and other dresses at affordable prices. Thanks to the trendy designs and affordable prices, many old clients show their willingness to return to TBdress.com soon. According to a spokesman for the company, the current promotion will end on Jan. 15, 2014.
Here is what a customer from London says: "This elegant online store has the latest technology that enables the shoppers to get instant feedback about their requirements and orders. Their dresses are offered at unbelievable prices. The dress quality is perfect and I love the fast delivery at discounted shipping costs."
About TBdress.com
TBdress.com is one of the most popular suppliers of women's dresses (wedding dresses, evening dresses, and more). TBdress.com's passion is to provide customers with the best shopping experience so their special days are everything they dreamed.